Field of dreams inspires Stingers to 46-3 victory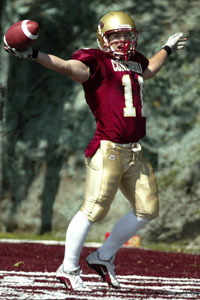 Bishop's almost lose their gaiters, thanks to agile Paquette
With more than 4,000 screaming fans on hand and bits of 10,000 shredded rubber tires nestled into Concordia Stadium's new player-friendly AstroPlay field surface, the Stingers football team walloped the hapless Bishop's Gaiters 46-3 under warm sunny skies last Saturday afternoon.
As an added bonus, more than 1,000 bobblehead dolls modeled after Stinger mascot Buzz the bee were given away to lucky fans.
The festivities surrounding opening day got under way early with a pancake breakfast for residents who had to put up with the noise and dust of construction of the new science complex. This was followed by a giant pep rally in the gymnasium, which featured Stinger players and coaches, as well as a giant cake officially cut by Katie Sheahan, the newly appointed director of recreation and athletics.
There was a steel band playing, face-painters, a magician, a halftime dunk tank, a human pyramid competition and hot tubs on the sidelines.
"I don't know about you, but I get goosebumps as I walk around Loyola campus," Stinger football coach Gerry McGrath told the assembled crowd at the pep rally. "With these amazing new fields, we've taken giant steps to make sure our athletes get the full university experience they deserve."
The completed project includes the installation of two AstroPlay surfaces with lighting. While the stadium installation is complete, work continues on the second field but should be completed shortly. General landscaping around both fields should also be completed by the time the snow flies.
"It's a great period of growth and excitement," said Les Lawton, the administrator and coach who was part of the development team. "We're ecstatic about the growth in our area. The energy that all these projects and commitments are producing is incredible. There's an electricity in the air all over campus."
The stadium field now runs east-west with the stands on the south side facing Sherbrooke St. Spectators get a great view of the majestic Administration Building, the Loyola Chapel, and Oscar Peterson Concert Hall.
"This really is a tremendous facility¸and look at that view!" said Sydney Chaperal, who brought his 13-year-old son Timothy to the game. "They've really done things up right and it looks as if their team will be pretty good this year too."
Led by pint-sized tailback Jean-Michel Paquette's running wizardry and a defence that McGrath calls ";the best in the country," the Stingers scored early and often in this rout. Paquette's two touchdowns in the opening quarter came on a 73-yard punt return and a 50-yard pass-and-run play. He picked up a total of 301 yards as a rusher, receiver and punt returner.
At five foot four, 178 pounds, Paquette is one of the smallest collegiate players in the country. He served notice in his first game, however, that he is capable of putting up some big numbers this year.
McGrath has great expectations for his veteran team, which features more than 40 returning players, including 18 of 24 starters from last year. "In talking with the coaches, we can't remember the last time we looked this good in training camp," said McGrath, who is now in his fourth year as head coach. "We're very athletic and if we stay healthy we don't seem to have any weaknesses."
The Stingers travel to Ste. Foy this Sunday to play the sixth-ranked Laval Rouge et Or, who pasted the McGill Redmen 47-6 last Friday night in their opening game. Next home game at Concordia is Sept. 27 at 1 p.m., the Shaughnessy Cup against McGill Redmen.