Student team in Solar Decathalon
Preview of sun-powered house set for Sept. 23
A team of students from Concordia University and the Université de Montréal has been accepted as the only Canadian team to participate in the 2005 Solar Decathlon. Twenty university teams will compete to design and build the most efficient and attractive small home powered only by solar energy.
The competition will take place at Washington, D.C. in September 2005, so the home must be a modular design to allow for easy transportation and assembly.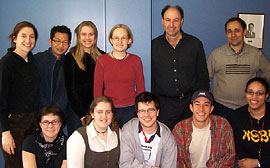 During the competition, the houses must operate on solar energy alone for one week and will be tested in areas such as the ability to maintain a constant interior temperature, generate sufficient hot water for common uses such as bathing and laundry, and produce enough electricity to power the house appliances. The houses will also be judged in terms of their architectural originality and appeal.
The competition is organized by the Department of Energy (DOE) and the National Renewable Energy Laboratory (NREL) with the aim of educating students and the public about the benefits of using renewable materials and sustainable energy sources in the construction and operation of buildings.
The team will hold its first public lecture, Building a Solar Powered House, on Sept. 23 in Room H-110 of the Hall Building, beginning at 7 p.m. The guest speaker will be Professor Andreas Athienitis, an expert in passive solar building. All members of the public with an interest in solar energy and its use are invited to attend.