Recognize that chair? Concordia's trash becomes art
While students hurry off to classes this fall, Fine Arts master's student Adrienne Spier can be found on the first floor of the Hall Building, sorting through piles of old furniture, obsolete computers and scientific equipment.
The artist has proven Concordia Distribution Services to be a cornucopia of inspiration for those with a penchant for taking something old and making it new again, or in the case of Spier, taking something old and turning it into a master's thesis.
"My work always comes from things that originate from the trash," Spier explained, "but I tend to make the work while considering where it has been found. During my time at Concordia, almost all of my materials and my ideas have come from Distribution Services."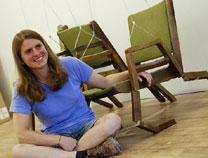 With the help of staff, Spier collected 14 discarded office chairs and two old desks to form her new exposition, Waiting Rooms and Offices, which opened last week at Dare-Dare gallery, 560 Ste. Catherine St. W.
Mimicking the dreaded realm of the waiting room, green and black chairs line three walls and are attached overhead by an intricate pulley system. Taking a seat in one of the chairs causes three broken chairs to rise to full height on the other side of the room, allowing for what Spier calls "a puppeteer's perspective."
The 29-year-old Fibres major is on a first-name basis with many of the staff members at Distribution Services, having cultivated informal relationships during her last two years of regular visits. She stops in on her way to her studio up to five times a week, in the hope of finding new material to complete her projects.
So deep runs her gratitude to centre the she named her last show at Optica gallery in April after her favourite place at school: Distribution Services.
Her show runs until Oct. 11 at Dare-Dare gallery, 560 Ste. Catherine W. Suite 505.