Home game has special meaning for soccer players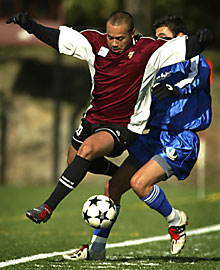 The men's soccer team, guided by Czech-Canadian Vladimir Pavlicik, is a reflection of Concordia's multicultural nature.
"As a coach, it is an absolute joy to have the diversity," said the soft-spoken Pavlicik. "Each individual brings something different with him, whether it's Johan and Jonas from Sweden, or Rabi and Kamel from Lebanon, or Nelson from South Africa. It's the mix that is surely a valuable part of their education."
The men's team is by far the most diverse of all the varsity teams at Concordia, men or women, as roughly one-third of the team is from abroad. Many of these students have found the soccer team provides a great basis for their lives at university.
"Coming over from Greece, I didn't know anyone except for my brother, and I hardly spoke English," said Theodosios Analitis, one of the two five-year veterans on the team. "When I made the team, I immediately met 25 students, and made some good friends."
One of those friends is captain Ammar Badawieh, a Jordanian who has enjoyed tremendous success with the team — an All-Canadian, and earned a spot on the all-star team every year he played.
Badawieh remembers the challenges he faced, and now feels he has a responsibility for the team and its younger players, especially the foreign ones.
"Language was my main problem, and there were many others who had that problem, too," said Badawieh before a Sunday afternoon victory against ETS. "You have to work to communicate with your teammates and learn how to work with them. I also try my best to create a positive atmosphere."
Second-year engineering student George Oroc does his part to contribute to that atmosphere. The defenceman looks forward to bus rides to talk with the other players. On these trips, he learns about how soccer is played in countries as far away as South Africa. He recalls the recent trip to Quebec City as a memorable one.
"Learning about one another opens your mind," he said. "You get to know each other's skills, then you get to work with those skills. Having a multicultural team creates a different dynamic."
The relationships built during the bus rides, practices and games clearly last beyond the short regular season as the team regularly receives mail and visits from former players living from Mexico to France.
One thing is for sure: the team is comfortable playing at what is known to all of them as "home." On the road, they are 0-3-1, having been outscored 10-2. They have won all four games on their own pitch at the Loyola Campus, however, outscoring their opponents 10-0.