Confident Stingers soak Laval on gridiron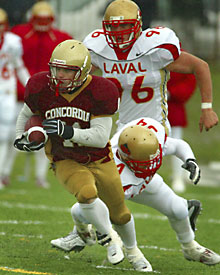 It's all about swagger. The Montreal Canadiens used to have it. So did the Dallas Cowboys. The New York Yankees seem to have it every year.
While the Concordia Stingers have had decent football teams in recent years, they have rarely exhibited the necessary cockiness and bravado needed to take them to that next level. That changed last Saturday afternoon at Concordia Stadium.
Buoyed by the support of more than 2,100 rain-soaked fans on hand for Homecoming, the confident Stingers stormed to a 30-8 lead before settling for a 38-30 win over the previously undefeated Laval Rouge et Or.
The win moved the Stingers (4-1) into a second-place tie with Laval. Concordia can move into a first-place tie of they can beat the unbeaten Carabins at the Université de Montréal this Saturday.
The Stingers weren't intimidated in the least by Laval despite the fact they had lost to the Rouge et Or 47-21 last month in Ste. Foy. Concordia was firing on all cylinders Saturday despite Mother Nature's efforts to play havoc with both teams' passing games.
"I don't care if I'm wet — Concordia rules!" said Sophie Parent, 19, who covered her head with her homemade sign cheering on diminutive Stinger running back Jean-Michel Paquette. "The Stingers should win everything this year and I think J.M. is their best player."
It would be hard to argue with Sophie after this contest. Despite a fourth-quarter scare that saw Laval mount an impressive comeback, the Stingers look poised for a serious run at a national title. Paquette did his part, carrying the ball 17 times for 81 yards. He also caught six passes for 37 yards. He returned four punts for 92 yards and two kickoffs for 32 yards.
"Jean-Michel is the most complete and dynamic player in the country," said Stinger head coach Gerry McGrath.
Despite the rain, Stinger quarterback Jon Bond launched an impressive aerial attack, completing 27 of 40 passes for 298 yards with three touchdowns and no interceptions. His Laval counterpart Mathieu Bertrand completed 17 of 37 passes for 298 yards but connected for just one major and an interception.
Slotback Brad Remus scored two touchdowns for the winners. He finished the game with 11 receptions for 169 yards. Elvis was very much in the building, er, Stadium as safety Elvis Martinez led the Concordia defence with eight tackles, followed by Mickey Donovan, who had seven tackles and one sack.
The game was televised on Reseau des Sports (RDS) and broadcast on The Team 990 Radio.
"It's exciting to have a game of such great magnitude available to all our fans and alumni across the country," McGrath said. "I think it was the premier football game in the country this weekend."
RDS will follow the Stingers again this weekend when they travel to the Université de Montréal. Team 990 is expected back on campus Jan. 16 to broadcast the men's hockey team's clash with the McGill Redmen at the Ed Meagher Arena.