Alumni Awards presented to outstanding Concordians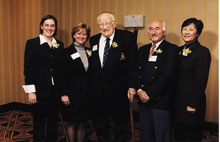 The annual awards given by the Concordia University Alumni Association were presented Oct. 2 during an evening of music and memories at the Delta Centre-Ville Hotel.
The Benoit Pelland Distinguished Service Award goes to alumni for longstanding commitment to the Association and the university. This year, it went to former CUAA president Nicole Fauré (BComm 84) and restaurateur Hazel Mah (BComm 78, MBA 81).
Nicole Fauré helped shape the CUAA into the strong organization it is today. She joined the CUAA board in the late 1980s and remained for more than 10 years, serving as president from 1994 to 1996, and as representative to the Board of Governors from 1996 to 1998. Professionally, she works in the hotel and executive search businesses, and started her own company, Fauré, gestion conseil, in 1997.
Hazel Mah is best known for her flagship establishment, Le Piment Rouge, but she has also run other restaurants, in Montreal, Toronto and several U.S. cities. She was a member Concordia's Board of Governors from 1997 to 2002, and has been actively involved in fundraising for the university.
The Honorary Life Membership Award, which goes to a non-graduate, was presented to the Hon. Col. Pierre Sévigny, P.C., O.C., war hero, former cabinet minister and successful business executive.
Col. Sévigny fought in Europe in World War II and received many military decorations. He wrote a book about his experiences, Face à l'ennemi, which won the Prix Ferrières de l'Academie Française in 1948. After a successful business career, he was elected to Parliament and served as Associate Minister of National Defence in the Diefenbaker government.
He began teaching business administration at Concordia in 1967 and was appointed Executive-in-Residence with full-time teaching duties in 1982. He retired in 1995 but returned two years later as visiting assistant professor. He also created Concordia's John Molson School of Business Awards of Distinction in 1987 to publicly honour business excellence. Col. Sévigny was named to the Order of Canada in 1995.
The Alumni Award for Excellence in Teaching was given this year to computer science professor Asim J. Al-Khalili and the distinguished artist Guido Molinari, who taught for many years in the Faculty of Fine Arts.
Dr. Al-Khalili was one of the founding members of Concordia's computer engineering program, and played a prominent role in developing the undergraduate and graduate curricula. An outstanding teacher and researcher, he did his graduate work in Glasgow, and taught at Baghdad University of Technology before arriving at Concordia in 1981.
Guido Molinari's paintings have been shown in museums around the world, a tribute to his place as a pre-eminent Canadian abstract artist. Now in delicate health, he was a much-loved teacher who gave inspiring lessons in painting and drawing two evenings a week for 27 years until his retirement in 1997. He was one of the remarkable artists who were the foundation of the Faculty of Fine Arts.
Seanna Miller (BComm 03) and Youri Cormier (BComm 03) received Outstanding Student Awards. Seanna Miller, an excellent student, was last year's VP, Academics and Student Affairs, for the Commerce and Administration Students' Association (CASA). She played a key role in revamping the John Molson School of Business's Career Placement Centre, and she helped co-ordinate the teams for the 2003 Commerce Games, Quebec's vigorous academic business competition.
She introduced international competing opportunities to JMSB students, taking them to events at the State University of New York, where her team took gold, and to the University of Washington. She is now an associate analyst in information management at McNeil Consumer Healthcare.
Youri Cormier combined his studies in international business in the John Molson School of Business with the multi-disciplinary policy studies program at the School of Community and Public Affairs. He was a student representative on University Senate and the Board of Governors in 2002-03.
He was also a member of the Concordia Debating Society for three years. In January 2002 was on the gold-medal-winning debating team at the Commerce Games. In March 2002, he was on the team that took the French Language Canadian National Debating Championship. He is currently in Guatemala.
The MBA Alumni of the Year Award is awarded by the CUAA MBA Alumni Chapter to an MBA alumnus/a for professional achievement and dedication to the community their alma mater. This year's recipient was businessman Edward A. Marra (L BComm 74, MBA 76), who has forged a successful international career with Nestlé.