Leap of the imagination: Elaine Arsenault publishes children's book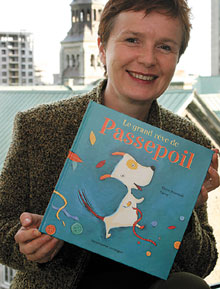 Elaine Arsenault walked out of the video rental store and couldn't believe her eyes. There lay an alligator on the sidewalk.
On closer inspection that December night in 2001, Arsenault discovered it was only her imagination. The illusion was a dog in a green army fatigue jacket, not a reptile.
Walking home to her downtown apartment, she thought of her sister, a Toronto seamstress, wondering if her sister could make dog outfits ranging from lions to chickens.
Days later Arsenault, now Assistant Director of Alumni Relations, relayed the story to a friend in the publishing industry. "You've got to write it down," her friend said. "Write the story."
During Christmas break, Arsenault pounded away on her computer and produced a 34-page children's book titled Buttons. Its French version, Le grand rêve de Passepoil, published by Dominique et Compagnie, hit bookstores in Quebec and France last week.
The story revolves around a pet store puppy that so desperately wants to be adopted by the seamstress working next door that he sneaks into her boutique and sews and dresses himself in a cat, a fish and a bird outfit to gain her attention.
The book, which will have its English release next spring, is Arsenault's first. Four more books in the series are already in publishers' hands. The book has made it into the Christmas catalogue of FNAC, France's mega-retailer of books and music. An Argentinian company is looking at the Spanish rights, and Harper Collins is reviewing two other of her books for older children.
All this attention is new to the 47-year-old Montreal native, who only began writing three years ago. "The coverage is really phenomenal. I feel I'm awfully lucky."
After back surgery put her on sick leave for a year, Arsenault could only stand or lie down. Bored of days in bed and unable to paint, Arsenault borrowed a friend's laptop and began writing from her bed, turning out pages of short stories for both adults and children.
"I'm very task-driven. I just like to do things and see results," Arsenault said.
When she returned to work, a friend introduced her to Barbara Creary, now interim publisher at Dominique et Compagnie, who loved Arsenault's work.
"Elaine is a true storyteller," Creary said. "She is a publisher's dream."
Although she has no children of her own, Arsenault tested her stories on her nieces and nephews, watching to see what parts made them laugh. If adults found the stories funny, she knew she had written something valuable.
She was the middle child of five children. Her first spoken language was English, but she was schooled in French, and only learned to read and write English as a teenager by borrowing one of her younger sister's Dr. Seuss books. She writes all her stories in English.
A daydreamer who wove intricate tales and fantasy play with neighbourhood kids, Arsenault earned a bachelor's degree in applied human sciences from Concordia and a master's degree in counselling from McGill.
Before coming to Concordia, she worked as a student counsellor at Villa Maria and Sacred Heart High Schools and found herself laughing so much with students that hall monitors had to ask her to keep quiet.
"I've always been playful," she said. However, she approaches writing with diligence.
She doesn't own a TV. She writes for an hour and half each morning before work, and vacations are spent writing for longer stretches of time.
All that hard work has paid off in fun, she said with a grin: "It's never too late to have a happy childhood."