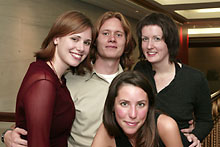 Journalism students win Gazette awards
Every year, The Gazette sponsors four journalism awards in honour of someone affiliated with the newspaper in the past. The Lewis Harris Award goes to an undergraduate student and honours the memory of Lewis Harris, a former Gazette copy editor and part-time teacher at Concordia, who died four years ago.
The Susan Carson Award and two Philip Fisher Awards go to graduate students. The Susan Carson Award honours the memory of reporter Susan Carson, a committed and courageous journalist whose work in the Living section of The Gazette touched many people. She died of cancer in the late 1980s. The Philip Fisher Awards honour Philip Fisher, former chairman of the Southam company, and an early and longtime supporter of journalism education.
Tristan Baurick: Susan Carson Award
Tristan Baurick did his undergraduate work at Evergreen State College in Olympia, Washington, a school that U.S. News and World Report called the best "learning community" in the United States. As part of his studies, Tristan interned on a newspaper — and found his calling. He dreams of becoming a foreign correspondent and one day starting a publication devoted to presenting the historical context behind global issues. In his application for the Susan Carson award, Tristan wrote: "I wish to seek out answers abroad and to present them clearly for domestic audiences. I'm drawn to places I'm not supposed to go. I want to see what few have the opportunity to see."
Heather Thompson: Philip J. Fisher Award
Heather Thompson majored in film production as an undergraduate at Concordia, and over the past five years, spent considerable time on experimental and narrative filmmaking. When asked on the Fisher application if she has any special skills, Heather listed "making cocktail party conversation" among her specialties. She wrote: "I love to hear what people have to say about themselves and often find a great deal to say about myself as well. I think this ability will be crucial to my career as a journalist, because an interest in humanity and the ability to communicate with people are of key importance. As well, it means that I have spent much of my adult life searching for the right questions to ask."
Colleen Gauthier: Philip J. Fisher Award
Colleen Gauthier, a dual citizen of the U.S. and Canada, chose to study biology as an undergrad at McGill because of the unending quest for knowledge that science represented for her. Yet from an early age, she'd been drawn to words. She won her first writing contest at age nine. In her application for the Fisher Award, Colleen wrote that she never planned to study journalism, but decided to take an introductory journalism course last year at the local university in upstate New York on a lark. "I was surprised at how natural it felt to write for print," Colleen said in her Fisher application. "It seemed to satisfy both my love for writing — and my thirst for knowledge."
Anne-Marie Reynaud: Lewis Harris Award
Anne-Marie Reynaud was born in France in 1981 of a French father and Canadian mother. They lived in Nova Scotia for three years in the 1990s where Anne-Marie attended public school for grades 5, 6 and 7. The family moved back to France and Anne-Marie did her secondary studies there. After completing her baccalaureat, she volunteered to work with l'Arche in Honduras for one year, helping to look after disabled orphans. She went on to do a three-month internship with AP television news in London, England in the fall of 2000, before going to Toronto to begin studies there in January 2001. That fall, she transferred to Concordia to begin journalism studies, where she is currently in her third year.
- Linda Kay (with files from Enn Randsepp)