Concordia project wins Forces avenir award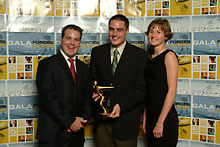 A business student who got creative about international trade was one of the winners of this year's Forces avenir awards.
Hugues Mousseau, a student in the School of Community and Public Affairs, was at the Grand Theatre du Québec with his partner, McGill student Louis Dorval, to accept the cash prize of $8,000 for their project, CommEx Mission, which organizes trade missions to countries in Central America.
As we told Concordia's Thursday Report readers in our Sept. 25 issue, Mousseau's interest in international trade started with a Junior Team Canada trade mission to Malaysia three years ago.
Since then, CommEx has undertaken two trade missions, both to Mexico. The students' effort to create affordable trade junkets have paid off in lasting links with as many as eight Quebec businesses, and the students got letters of commendation from the prime minister.
CommEx includes 11 students from the Université de Montréal, Waterloo, the University of Western Ontario, McGill and Concordia.
Mousseau said CommEx's missions are one-tenth of the larger government-organized projects, which tend to focus on large enterprises. CommEx missions are affordable and advocate on behalf of small- to medium-sized businesses, he said.
The pair won their prize in the business and economic activity category of the competition, whose selection committee was chaired by Alban D'Amours, head of the Mouvement des caisses Desjardins.
True to form, Mousseau and his partners used the banquet to do a little work.
"The gala was a wonderful opportunity for CommEx to increase its business. It allowed for networking with proactive students from universities across the province, as well as with past and potential corporate partners. "Our scholarship will allow us to further our activities and we are now studying the destination of the next trade mission."
The other nominees from Concordia each won $2,000 honorable mention awards. They are environmentalists Geneva Guérin and Louise Hénault-Ethier, and art therapists Jennifer Newman and Véronique Brun.
Forces avenir is a non-profit business and government body that seeks to encourage community initiatives by young people. Now in its sixth year, the organization gave a total of $114,000 in awards at the gala on Oct. 8. For more information, check out http://www.forcesavenir.qc.ca.