Concordia professors hail Nobel Peace Prize win by fellow Iranian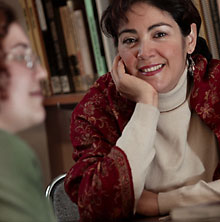 Though they view it from slightly different perspectives, two Concordia professors from Iran were optimistic about Iranian human-rights activist Shirin Ebadi winning the Nobel Peace Prize.
Roksana Bahramitash and Homa Hoodfar both hailed Ebadi's win as recognition of the hundreds of Iranians who have been working quietly to improve human rights, especially those of women and children, in their country.
"What's important about her is that she works within the existing structure to press for change, as compared to those who want to export democracy and development in Iran," said Bahramitash, a lecturer at the Simone de Beauvoir Institute.
Bahramitash criticized the media's tendency to represent Ebadi as a militant radical, which she is not.
"She regards herself as Muslim and has used Islamic law to press for changing laws regarding women," she said.
Like Iranian President Mohammed Khatami, Ebadi is part of the reform movement that must walk a fine line between the desires of reformers and religious hardliners "so that slowly and surely change can be brought about," Bahramitash said.
Hoodfar, associate professor in the Sociology and Anthropology Department, said Ebadi's win will "refocus attention on the work done by civil society" in Iran and elsewhere to promote human rights, peace and non-violent forms of resistance.
"It has re-energized many people who have been working quietly locally," she said.
Hoodfar said she has received excited e-mails from Islamic women all over the world, including a group working to promote peace between communities in Sri Lanka.
"They see it as a reaffirmation of what they've done for 15 years."
Hoodfar, a specialist in gender and development issues in countries such as Egypt, Afghanistan and Iran, has met Ebadi a number of times. She described the 56-year-old lawyer and former judge as "down-to-earth, very approachable, kind," and "interestingly, she doesn't talk very much."
The prize is the latest of a number of awards that Ebadi has received for her work, Hoodfar said.
She will use it to promote her cause because "a society where the women and children have rights and are protected is a sign of a truly civilized society."
For Bahramitash, the award is Europe's way of sending a clear political message to the United States to back off from any plans it might have of invading Iran, one of the countries in U.S. President George Bush's so-called axis of evil. "It is a vote against U.S. pre-emptive policies" as seen in Afghanistan and Iraq, she said.
Eschewing the view that Islam and the West are locked in a clash of civilizations, Europe has opted for a dialogue of civilizations, Bahramitash said.
"And that is what Europe is showing by giving the prize to a woman who says outwardly she is Muslim and that she see no contradiction between Islam and democracy; she says outright that Islam and democracy are compatible."
Baharamitash's concern about an eventual U.S. invasion of Iran has prompted her to organize a conference on Sunday, Nov. 23 under the theme Women and the Struggle for Peace in the Middle East, with speakers from Iran, Iraq, Afghanistan, U.S. and Quebec.
The conference, taking place under the auspices of Concordia Peace and Conflict Resolution series, is organized in conjunction with Alternatives. It will be held in Room H-973. For more information, contact Bahramitash at rbahramitash@hotmail.com or 848-2424 ext. 2372.