Professors awarded grant to study learning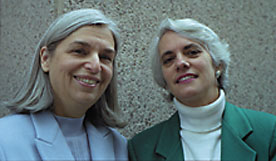 Learning is not the result of development; learning is development. So goes the credo of the constructivist school of educational thought, which will serve as the basis for a new cross-country study being conducted by two Concordia professors.
"There's a difference between learning and being taught," said Ellen Jacobs, chair of the Education Department and professor of Early Childhood and Elementary Education. "Some people say that's the difference between constructivist and instructivist education."
The multi-part research project, which was recently awarded a $591,000 grant from Human Resources Development Canada, is being conducted by Jacobs, who is the principal investigator, and Nina Howe, professor of Education and associate dean of Graduate Studies for Student Affairs. It will focus specifically on early childhood educational regimes through the lens of constructivism, which Howe explained as a personalized and responsive approach to teaching, as opposed to the uniform instructive approaches of traditional education.
"It's a very, very challenging way to teach," said Howe. "It requires being on your toes every minute of the day. It's not a prescriptive approach to teaching, it's a constructive way in the sense that you're listening to the children and building on their interests—you're helping them construct their knowledge of the world."
The first portion of the research will be a study of the regulations across Canada for educator training, and will look at content and time requirements for curriculum instruction. Following this analysis, Jacobs and Howe will move on to how the teachers operate in a classroom setting.
"We are going to Manitoba, Quebec and Nova Scotia—these are places that we know have different regulations from one another —and we are going to go into the daycare centres and we're going to examine what they're doing," said Jacobs. "We're going to look at the activities that are provided for the children."
The final stage of the research will be to amalgamate the findings from the first two parts and combine it with elements of constructivist philosophy. The end result will be a program that will engage educators and show them how implement constructivist techniques in the classroom.
"We are going to develop a program that is constructivist in approach," said Jacobs. "We plan to engage the educators and show them how to create a constructivist environment in which they, along with the children, construct the children's knowledge."
Jacobs explained that she was motivated to carry out the research because of findings in her studies of early childhood environments.
"I've looked at hundreds of daycare environments and I've been very disappointed with the kinds of activities that we have seen in these environments," she said, adding that the children she observed lacked engaging work to stimulate them into extending their pre-existing learning. "You have to listen to how they reason things through. Just presenting them with concepts and saying 'do it like this' it doesn't allow you to find out what the child's knowledge is and what the child understands about that particular issue."
Jacobs offered two contrasting examples of instruction from each school of thought. Traditional teaching would present children with a turkey stencil for Thanksgiving, said Jacobs, and ask the children to colour it in. Constructivist teaching, on the other hand, would encourage the children to talk about how the turkey feels, and provoke them to think those things through.
Thus, by encouraging children to think outside the picture, teachers themselves move beyond the boundaries of traditional instruction. The result is a program where the children, and the teachers, learn something genuinely new.