Engineering and Computer Science Excellence Awards: Top-notch students owe success to busy schedules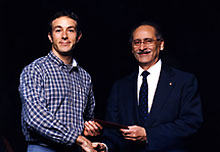 The Faculty of Engineering and Computer Science recently presented awards to 148 students on the 2002-03 Dean's List.
"Your parents are honoured by the calibre of your accomplishments, and as faculty and staff who contribute to your learning experience, we, too, are proud of you," Dean Nabil Esmail told the students. He added they were "the crème de la crème, representing 3.7 per cent of our more than 4,000 students studying at the undergraduate level."
Joe Kerby and Dominique Simoneau-Ritchie were two of the students honoured in the ceremony, held at the Centre Mont-Royal on Nov. 5.
With a GPA of 4.25, Kerby, a third-year building engineering student who is in the co-op program, had almost a perfect 4.3 average. He is modest about his achievement, though.
"When you look at my GPA and the things I'm able to do now, it's all because of my past experiences," he said. The 30-year-old native of Rossland, B.C., studied psychology at the University of Victoria and planted trees for 10 years before moving to Montreal to go to school.
He is now on the only Canadian team participating in the International Solar Decathlon that will be held in Washington, D.C., in 2005. The team is working to build a functional solar-powered house that will impress competition judges and contribute to the growing interest in the possibilities of renewable energy.
Kerby said he doubts his GPA will hold up to the challenges and time commitments the project demands. "It's a challenge to multitask at this level," he explained. However, he'd rather sacrifice his average than pass up an opportunity to participate in the decathlon.
Simoneau-Ritchie, on the other hand, is determined to maintain her 3.82 GPA this year. A second-year software engineering co-op student, Simoneau-Ritchie is also the VP Marketing for the Engineering and Computer Science Association (ECA). She said keeping busy has contributed to her success.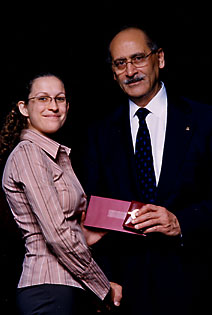 "I find when I have a lot of responsibility I focus more," the 22-year-old Montreal native explained. "It's easy to procrastinate when you have nothing to do. Having a group dynamic is important to me, because I enjoy working with others."
Simoneau-Ritchie chose to study at Concordia because of the co-op program and the practical experience it provides. The two internships she's done have focused her career goals. She would like to work in the high-tech sector, partially because of the perks companies offer their employees.
At this ceremony, eight $5,000 entrance scholarships were introduced, one for each program in the faculty, in an effort to attract the most promising graduating CEGEP students to Concordia.
The inaugural recipients were Kevin Di Lallo, Earl Friedberg, Andrea Spector, Robin Nadeau, Maria Dellerba and Eric Guraieb.