Norman Ravvin prefers the surreal to stereotypes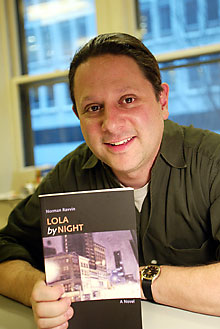 Norman Ravvin says although he's chair of Concordia's Canadian Jewish Studies, that doesn't mean his new book, Lola by Night, can't be read by everyone.
In fact, Ravvin's work has been classified as more "eccentric" and "absurdly gorgeous" by critics than as "Jewish" genre.
Ravvin himself considers his influences a mix of little-known Central European Jewish writers, Jack Kerouac and pop culture.
Lola by Night, published by Paperplates Books, is a bit of mystery, character self-conflict and self-discovery all melded into one.
"I consider myself someone who likes to present a surreal work," Ravvin said. "I'm not trying to present domestic life. I'm always looking for pockets of curious living."
Perhaps it's his own upbringing in a middle-class Calgary household that makes the 40-year-old writer and lecturer seek out the mainstream with a twist of absurdity.
The son of a Russian-born father and Polish mother, Ravvin was born in Calgary, where he spoke English at home.
Both his parents moved to Canada at a young age, so they were part of a generation whose upbringing was Canadianized, regardless of their parents' European background.
In Calgary, Jews were assimilated rather than ghettoized, he said. "I grew up with that sense of ease."
Ravvin studied English literature at University of British Columbia, earning both a bachelor's and master's degree, before moving to the University of Toronto to earn his PhD in English literature.
In 1999, he became Concordia's first Chair in Canadian Jewish Studies, a seat funded by the government and philanthropic gifts.
"I'm trained to teach Jack Kerouac and Philip Roth," Ravvin joked about his being chosen for the position.
The field of Canadian Jewish studies is fairly new. Many professors earned their PhDs in different fields, like history or literature.
"There wasn't a place for the discipline on Canadian university campuses," he said.
Only in 1980s and 1990s, when interest in different ethnic studies boomed, did the field emerge, Ravvin said.
In his role as chair, he not only teaches classes, but he works to reach out across Canada to spread the word.
He's forged an alliance with Red Deer Press in Alberta to get books by Jewish authors published.
"By choosing carefully and continuing to go outside of academia, we can make the biggest impact across the country," he said.
Ravvin also wants to bring in lecturers from other universities, who can take advantage of Montreal's Jewish Public Library, the Canadian Jewish Archives and McGill's Department of Jewish Studies.
For now, Ravvin continues to write, with a new novel, called Sweet Natalya, completed.
He continues to teach, hoping that Concordia students, not just Jews, will take his classes. "That's what makes things both academically successful and entertaining," he said.