In brief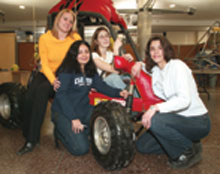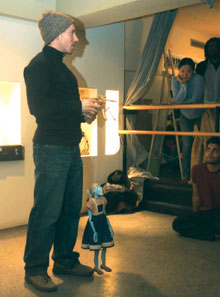 Biodiesel buses: Credit goes to students
The new shuttle buses (see page 1) are currently running on a percentage of biodiesel, which promises to be a prime alternative fuel for public transit.
Produced from methanol and vegetable oil or animal fat, biodiesel is made from renewable resources and helps significantly in the reduction of polluting emissions. It also requires no change to existing fuel delivery or diesel engines.
Pat Pietromonaco, of Facilities Services, said, "The switch to biodiesel started last June when students in the Sustainability Group approached me to sensitize our department to this alternative fuel source.
"A meeting was held to bring together our department representatives, members of the sustainability group and the sole producer of biodiesel, Rothsay Laurenco, to explain the benefits of alternative fuel use.
"My first introduction to the product was a lasting one, and I am pleased to announce that that vision has been realized. I will continue to work with our transportation services suppliers to gradually increase the percentage of biodiesel used."
JMSB takes gold in Newfoundland
Over Reading Week, four students in the John Molson School of Business won gold and the spirit award at the Network of International Business Schools' annual case competition, hosted by Memorial University of Newfoundland.
The School's next challenge is to win another competition at Royal Roads University later this month. Congratulations!
Writers Read at Concordia
Susan Gillis and John Steffler will read from their work on Tuesday, March 9, at 4:30 p.m., in H-762 of the Hall Building.
Gillis's most recent book, Volta (Signature Editions, 2003), won the A.M. Klein Award for the best book of poetry in English by a Quebec writer.
Her previous collection, Swimming Among the Ruins, was nominated for the Pat Lowther Memorial Award and the ReLit Awards. She has lived on the Atlantic and Pacific coasts of Canada and now lives most of the year in Montreal, where she teaches English at John Abbott College. An earlier version of Volta was her MA thesis in creative writing at Concordia.
John Steffler's books of poems include Helix (Signal Editions, 2003, winner of the Newfoundland and Labrador Poetry Award), That Night We Were Ravenous (M&S, 1998, winner of the Atlantic Poetry Award and the Newfoundland and Labrador Poetry Award), The Wreckage of Play (M&S, 1988), The Grey Islands (M&S, 1985) and An Explanation of Yellow (Borealis, 1981). His novel, The Afterlife of George Cartwright, was shortlisted for the 1992 Governor-General's Award for Fiction and the Commonwealth First Novel Award. He teaches English at Memorial University's Sir Wilfred Grenfell College in Corner Brook, Newfoundland, but manages to live much of the time in Montreal.
All readings are free, open to the public, and followed by a question and answer period. Copies of the author's work will be for sale at each reading, courtesy of the Concordia Bookstore.
GSA election
Nominations are open for executive positions until March 8 at 5 p.m. Packages are available from the Graduate Students Association office, at 2030 Mackay St.
Voting will take place through mail ballots from March 22-March 31.
CCSL Awards
Nominations are invited for these awards for work in student media, teaching, and extracurricular activity. For more information or for nomination forms, please contact the Dean of Students Office. The deadline for nominations is March 17.
EMBA tuition waiver
Each year, the Executive MBA program offers a partial tuition for two support staff at the university. One is offered to staff within the John Molson School of Business and the other is offered to support staff outside the JMSB.
The waiver is for $22,500, half the total tuition of $45,000. Prospective students should submit their applications as soon as possible, but not later than June 1.
Contact Lucille Hreha, at ext. 2995, or send an e-mail to lhreha@jmsb.concordia.ca.
Loyola Medal goes to Dominic D'Alessandro
The Loyola Medal, presented every two years to an outstanding citizen, will be presented in Toronto for the first time. Business executive and alumnus Dominic D'Alessandro will be given the honour on May 3 at the Four Seasons Hotel.
Mr. D'Alessandro has earned widespread admiration in a decade as president and CEO of Manulife Financial. He took Manulife through demutualization and conversion to public company status in September 1999, making it a major contender in the global financial services industry.
He was named Canada's outstanding CEO for 2002, and the following year was named Officer of the Order of Canada by the Governor-General.
He was given an honorary doctorate by Concordia in 1999. Among other honours, he has received a Management Achievement Award from McGill, the University of Toronto's Arbour Award, the CEO Award of Excellence in Public Relations from the Canadian Public Relations society, and he was named a Fellow of the Institute of Chartered Accountants.
He earned his first degree, a bachelor of science in physics and mathematics from Loyola College in 1967. He went on to qualify as a chartered accountant, earning the bronze medal from the Institute of Chartered Accountants. He has worked for Coopers & Lybrand, Genstar, the Royal Bank of Canada, where he was a vice-president, and the Laurentian Bank of Canada, where he was president and CEO.
We offer Mr. D'Alessandro our hearty congratulations.