Blond boys out of playoffs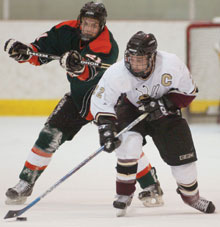 The Stingers were hoping to enjoy the ride a while longer.
The men's hockey team made the coveted post-season for the first time in three years, but were bounced in two straight games by the Trois-Rivières Patriotes in the best-of-three OUA Far East semifinal series.
The Pats took the opener 3-2 last Wednesday night in Trois-Rivières before shutting out the Stingers 4-0 at the Ed Meagher Arena last Friday. Trois-Rivières began their best-of-three division finals against the Ottawa Gee-Gees last night.
It was a disappointing result for the Stingers, who had got into the playoffs after a late-season surge which saw them beat Trois-Rivières rather handily in the last regular season meeting between the two clubs.
The Stingers even sported a new look heading into the playoffs as 17 members of the team dyed their hair blond to show team spirit. Goaltender Phil Ozga started the trend and it quickly spread as peroxide disappeared off the shelves of local pharmacies.
"Not only did they all want to work towards the same outcome, but they all wanted to look the same doing it," said Stinger head coach Kevin Figsby.
This isn't the first time that Ozga has sported the blond locks.
"I used to [dye it] when I played major junior hockey," Ozga said. "Our Acadie-Bathurst team won the Memorial Cup and we all had blond hair. I wasn't trying to necessarily start the trend here at Concordia, but when a couple of us did it everyone else soon followed."
Ozga played his final game in a Stinger uniform last Friday.
"It's an unfortunate result but we gave it all we had," he said. "Trois-Rivières are a good offensive team and it's always a difficult game for us."
The first game of the series could have gone either way and many predicted that whichever team won the opener would likely sweep the series.
Alex Piché's power-play goal with 11 minutes to play in the third period proved to be the winner in the opener. Piche also chimed in with two assists as the Patriotes overcame a 1-0 deficit for the win. Concordia had opened the scoring at 3:18 of the first period on a goal by Sebastien Corbeil. Frederic Faucher scored the other Stinger goal, which tied the game 2-2 early in the third. The Stingers were outshot 38-30.
Nicolas Pelletier scored twice, while linemates Jean Morin and Martin Côté added singles, as the powerful Pats eliminated the Stingers last Friday. The three forwards also had two assists apiece.
"It seems that every time I come and see Concordia play Trois-Rivières they lose," said Marc-Andre Racette, 17, who lives just two blocks from the arena. "I know Concordia beat them a couple of weeks ago, but like a fool I missed that game!"