Marketing students win jobs with alumnus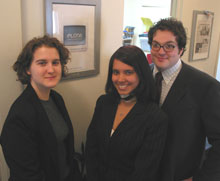 Three students who took part in a marketing competition found that although they didn't win a prize, they got something more tangible — a job.
Andrée-Anne Lambert, Tara Ryan and Alexis Rubin responded to an invitation extended in one of their marketing courses to take part in the Concours de la reléve Publicitaire, an annual event sponsored by the Publicity Club of Montreal.
They prepared and presented an integrated marketing communications campaign for a real client, Les Publications de Québec, and came in third after what Ryan called "a killer presentation."
Even though they didn't take the gold in the contest, they were invited to group interviews for advertising agencies around Montreal, and landed jobs at Eloda, an online marketing company founded by Concordia alumnus Jean-François Pouliot and Jean-Charles Dupuis. (Pouliot is also the prize-winning filmmaker of La Grande séduction.)
Companies like Ford or McCain's pay big bucks to have some or all of their competitors' ads collected, bundled, and delivered to their doorstep with a big bow on top.
Eloda monitors satellite signals used by the major networks in Canada. When the show breaks for a commercial, the screen fades to black, tipping off the system that it's time to record. Eloda tech personnel take these ads, label them, and put them in the virtual video library, kind of like your bookmarks tab, for subscribing members.
The system is able to discern like commercials, based on details like the jingles they use. If an ad is published twice, with only the price changing, the software picks that up, too. Ads screened the day before are processed, labeled and put online over night. They can then be searched for by advertiser, category, keyword, date, and language.
With 300 new ads debuting every week in Canada and a database of over 18,000 commercials to sell to big business, Eloda has opportunities for growth.
The students credit their extracurricular activities for their success. Rubin, who is currently finishing his marketing degree, is president of CASA, the students' association of the School of Business, and sits on the Concordia Student Union Council. "I loved my Concordia experience," he said. "I learned a lot about human interaction and teamwork."