Club Lido, all that jazz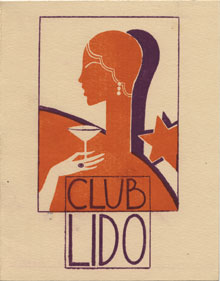 Club Lido was a popular upscale nightclub at 1258 Stanley St. with a very active and ever-changing program of beautifully staged cabaret floorshows featuring dancers, novelty acts, and singers.
Club Lido prided itself on having beautiful facilities, modern air conditioning, with fine dining. It offered a large selection of cocktails, fizzes, sours, mixed drinks, and cordials that were popular in the 1930s.
The exterior marquee was a distinctive landmark, and it remains so to this day. The site would later be taken over by Chez Paris, another very popular Montreal nightclub, and it is currently the Chez Paree, a strip club and casino.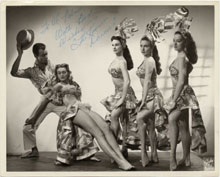 Running concurrently with the Beder show is Montreal Jazz + Clubs, an exhibition of rare photos and memorabilia from the same era, all from the unique collection of Montreal jazz history materials in the Concordia Archives and curated by Archivist Nancy Marrelli. They are in the mini-gallery behind the main gallery space.
The photo at right illustrates the typical styles of the dancers who appeared in floorshows and as featured performers in Montreal nightclubs in the 1940s. The photograph is one of the publicity photos found in the files of journalist Al Palmer, documenting Montreal nightlife beginning in the 1940s.
Al Palmer (1913-1971) was a police reporter, columnist, and writer-about-town who wrote for the Montreal Herald and the Montreal Gazette. He also wrote for magazines and published two books. From 1947 to 1969 Al Palmer wrote gossipy and colourful columns that chronicle the Montreal after dark.
Shirley O'Neil Marchessault donated Al Palmer's files to the Concordia University Archives in 1993. The files comprise scrapbooks containing all his published columns and articles, brochures and his research, as well as over 300 photographs, many of them publicity photographs provided by entertainers visiting or performing in Montreal. Many of the photos are signed to Palmer with personal greetings.