City Lights at Ellen Gallery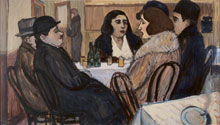 The current exhibition at Concordia's Leonard and Bina Ellen Art Gallery, Jack Beder: City Lights, is a rare look back at a golden era of Montreal history.
The show focuses on Beder's vision of downtown Montreal in the 1930s and '40s, when the city was justly celebrated for its nightlife.
Beder (1910-1987) was from Poland, and immigrated to Canada as a teenager in 1926. He studied art at the École des beaux-arts de Montréal, and became an active member of the city's artistic community, garnering favorable reviews by the critics.
This exhibition of paintings and drawings is curated by Esther Trépanier, Professor, Département d'histoire de l'art, Université du Québec à Montréal, and Sandra Paikiowsky, Professor of Art History at Concordia. The curators have also produced a 92-page illustrated, bilingual catalogue.
Gazette reviewer Henry Lehmann refers to Beder's "self-effacing yet ravishing portraits of Montreal," and expressed puzzlement that his work has, until now, been neglected. A number of events are being held in connection with the Beder show. Today, March 4, at 4 o'clock, Esther Trépanner discusses the artists and the context of his work.
Next Thursday, March 11, will be a Yiddish Literary Evening, starting at 6 o'clock. In collaboration with the Jewish Public Library, the Gallery hosts readings by Pierre Anctil, Robert Majzels, Norm Ravvin and others, in English, French and Yiddish.
On Tuesday, March 16, also starting at 6 p.m., presentations will given by Tina Brereton, who was a nightclub dancer in the 1940s and '50s, jazz writer Len Dobbin, and Music Professor Andrew Homzy.