Choreographers strut their stuff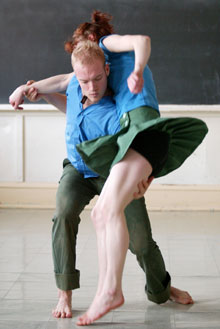 Five fledgling choreographers have been working on their big performance assignment since last October, and now it's show time.
Over the next two weeks, these senior Concordia choreography students will present their latest work. Stéphanie Fromentin explained that the students were asked to choreograph a longer work of 20 to 30 minutes, a challenge that went beyond the five-minute works they had become familiar with during our studies.
She and her partner, Elizabeth Emberly, had the help of the chair of the Department of Contemporary Dance, Michael Montanaro, now returned after his triumphant stint choreographing the Cirque du Soleil show Varekai.
He helped the students find a venue for their work, titled Manga Motion. It turned out to be Studio 303, at 372 Ste. Catherine St., a space often used by Concordia dancers.
Fromentin grew up in Connecticut, and was introduced to dance at an early age. "There are so many kinds of dance and performance, and the ones I've seen have kept me interested," she said in an e-mail.
"Though there's a great difference between dancing and choreographing, they both fulfill my intellect and desire to be in motion. I can't help but want to explore them as much as I can."
Alison Daley, Inna Gutnik and Katie Ward are presenting their work, called The Glass Closet Project, in the Salle André-Pagé of the National Theatre School, 360 Laurier E.
Katie Ward is a returning student who is already in mid-career as a dancer. She already has a bachelor's in fine arts, but instead of doing a master's degree, she came back to Concordia to deepen her skills as a choreographer.
She likes the self-directed nature of her study. "At a certain point, you don't need a prof looking over your shoulder every moment. My professor, Sylvy Panet-Raymond, was able to give me advice at the right time that made my work more efficient and effective."
The show's expenses have been met with the help of the Dean of Students' office and the Fine Arts Students Alliance (FASA). Mounting their own show was the kind of learning experience every working artist needs,
"This project has involved many collaborations, with musicians and set designers, lighting designers and of course, the dancers." Fromentin said. "We have become more familiar with press kits and publication costs, among other expenses. The project is now in full swing."
Manga Motion will be performed Friday, Saturday and Sunday; March 5 at 8:30 p.m., March 6 at 4 and 8:30, and March 7 at 4. Tickets are $5 for students and $10 for adults.
Fromentin added, in true press publicist style, "This is a great opportunity to check out the latest in dance with innovative ideas and multi-media attractions. Start off the Art Matters festival with this not-to-be-missed spectacle."
The Glass Closet Project is being presented in collaboration with the lighting design students of the National Theatre School. Performances are Friday, March 12, 8:30 p.m., Saturday, March 13, 4 p.m. and 8:30 p.m., and Sunday March 14, at 4 p.m.
Wade said that some works will be accompanied by live music, while other pieces will be set to interactive electronic "soundscapes." They promise originality, youthfulness and vitality.
Here are some more coming events from the Department of Contemporary Dance: Spirale is a show by first-year dance students at the Loyola Campus studio on March 17, 18 and 19 at 8 p.m.
The biannual show of student choreography will take place at Moyse Hall, McGill University, on April 16 at 8, April 17 at 2:30 and 8, and April 18 at 2:30. Tickets are $10, $5 students and seniors, sold only at the door.
Auditions for September 2004 entry are April 23, 24 and 25. Potential applicants should contact the department to make an appointment, at 848-4740.