Grad Francine Allaire made The Blue Butterfly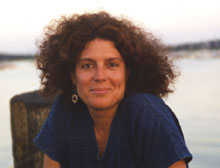 The scorching sun, torrential rains and deadly snakes in the jungles of Costa Rica couldn't stop executive producer and Communication Studies graduate Francine Allaire from completing the movie The Blue Butterfly, starring William Hurt.
The Canada - U.K co-production takes its name from the blue morpho, the world's rarest and perhaps most beautiful butterfly. The true-life story is about a terminally ill boy with one last wish: to catch a blue morpho, found only in the jungles of Central and South America.
The boy (Marc Donato) and his mother (Pascale Bussières) enlist the help of an entomologist (William Hurt) for the quest. After the journey, the boy is somehow cured. Allaire, a 1977 graduate, is the force behind the movie.
"A colleague met Montreal entomologist Georges Brossard, who told him about the boy and the butterfly, and I knew right away I wanted to make a movie about it because it's so compelling." Allaire, a 25-year film veteran. has two adopted daughters from China.
"I made the movie for my daughters, who are survivors, and for children everywhere who face enormous obstacles."
Allaire and production company Galafilm faced their own enormous obstacles. The film was to shoot in Cuba, which has film facilities and the requisite jungle and waterfalls, but the fallout from 9-11 forced a sudden location change and Allaire found herself scouting jungles in South and Central America.
"We had to secure financing and convince the insurance companies we had found a safe place to shoot [Costa Rica]. We did, but we had to fly in every single supply from generators to staples. We even had to build a road, bridge and village in the jungle, which were all washed out in a flood." There's nothing left to prove the film crew was ever there.
Dangers were constant. One day a viper coiled itself at her feet. A crew member said to her, "Francine, don't move, don't scream, but look at your feet…" Someone managed to trap it in a net.
Remarkably, no one was seriously injured during production and she credits the Bribri Indians for protecting them. "They could sense danger before anyone could see it."
Almost as miraculously as the real-life boy was cured, the elusive blue morpho actually appeared each and every day on set, sometimes for a just few fleeting seconds.
William Hurt was Allaire's first and only choice for the role of the entomologist. "The real Georges Brossard, who co-founded Montreal's Insectarium, is larger than life. I needed the contrary of what Georges is on the exterior," she said.
Despite her hectic schedule, Allaire sits on Concordia's Arts & Science external advisory board, which advises the dean on key matters. Allaire sees it as a chance to bring a francophone's cultural voice to the table and to give back to the university that taught her so much. "I was given the space to think freely, without boundaries, and that helped me succeed."
Arts & Science Vice-Dean (Research and International Relations) John Capobianco said of the board, "It's important to know what the outside professional community thinks of our programs and how they're taught so we can address emerging issues."
Allaire will take The Blue Butterfly to Robert De Niro's Tribeca Film Festival in New York in May. The film is now playing in Montreal theatres.