Student recruits students for Canada's Public Service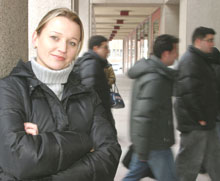 As the end of the year quickly approaches, prospective graduates are just beginning to think about future employment. But for Luiza Ratkowska, a third-year communication studies student, the decision has been made.
"I would love to work for the government full-time after graduation," she said in an interview.
Ratkowska, a Polish-born Canadian, has been working with the federal government for three years as a student ambassador at the university for the Public Service Commission (PSC) of Canada.
Her role at the PSC is twofold. "The main idea of a student ambassador is to increase the presence of the federal government on university campuses but to also promote the public service as an employer of choice to students," she said.
Ratkowska began her employment with the federal government when she graduated from CEGEP. That summer, she worked as a receptionist and was hired back to work part-time during the school year. Now she splits her time between working as a student ambassador to Concordia and doing human resources work in the PSC's Montreal office.
Promoting the federal government around campus has proved to be a challenging task. When Ratkowska discovered she wasn't allowed to put posters around campus, she changed her advertising tactics.
"Now I get the word out on campus by contacting student groups, faculties and the career and placement office [CAPS]. I usually send out e-mails at key times of the year, like in October when applications [for the student work program] are due," she said.
Ratkowska's techniques seem to be working. Last year, over 1,100 Concordia students applied for jobs in the public service through the Federal Student Work Experience Program, according to the PSC.
Paula Cristea is a first-year student in accounting. She began working with the public service last summer and is still working part time as an administrative assistant.
"I think that students need to be aware of all the opportunities that are available to them and the government is a huge opportunity," Cristea said. She added that the good salary, benefits and possibility of advancement and movement within the government are advantages that all students should consider.
Ratkowska is sometimes faced with young people who have a negative impression of government employment, thinking the people who work in public service are lazy paper-pushers.
"I don't know where that reputation came from. In any company, there will always be someone who doesn't do anything, but most people are really hard workers," she said. And there is a lot of work to do.
The PSC helps federal government departments fill vacant positions by posting the jobs online and pre-screening potential candidates. The jobs range from entry-level to management positions and from internships and summer work to full-time employment.
Ratkowska said that the majority of federal government organizations go through the PSC to hire their employees, which means there are opportunities for students and graduates in most fields.
"You'd be surprised who hires through us. Even astronauts go through us. We have every job imaginable," she said.