Planner John Zacharias on China, where the bicycle is king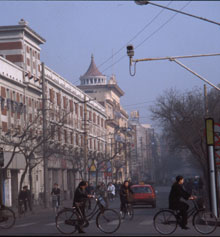 Concordia's John Zacharias has been helping China develop some of its fast-growing cities.
For eight years, the current chair of the Department of Geography, Planning and Environment has travelled frequently to Shanghai and other cities in China as a consultant on urban development.
On these trips, he provides perspectives on planning issues to Chinese planners and government officials. It gives him the chance to combine his expertise in central city development with his passion for China.
"Very few planners have the opportunity to work in that environment," Zacharias recently told an informal brown-bag session at Concordia's School of Community and Public Affairs.
"Most of us are just doing little things in our current environment; we're not building new cities. In China, they are building new cities, so that's exciting for an urban planner. It's a great opportunity to have some impact."
In addition to Shanghai, Zacharias has been dealing with planning issues in the cities of Tanggu, in Northern China, and Tianjin, a city about 140 kilometers from Beijing.
His involvement began when he was invited to sit on a jury for a design project in Tanggu in 1996. A few years later, he was invited to Tianjin to study the challenge of massive flows of bicycle traffic in that city.
Ever since, he's been going back, sometimes by invitation, sometimes at his own initiative, to meet with his contacts in the planning departments and with experts on transportation issues.
Over the years, he has taken several students to China to study urban development there and meet with Chinese universities. The next such field trip is planned for May.
"The door is always open," Zacharias said, explaining the culture of consultation in China. "They want to hear what we have to say about certain problems."
In fact, he said, "local planners find it useful to have foreigners come in," particularly to provide critical observations about past practices or current ideas. That's because they "can't say certain things to their leaders" in the top-down structure of decision-making in China.
For instance, Zacharias sees a "lack of integration" in Chinese cities as a result of rapid urbanization and money being made available by ambitious local officials to develop their towns.
Often, a modern project like a highway or a pedestrian mall is constructed "without consideration of how it would be integrated in the city," he said. The result is a "night and day effect" of shiny new projects that seem out of place in their traditional environment of micro-businesses in old streets.
Some local officials would like to diminish the use of bicycles in their cities, which they see as a sign of backwardness. Untold numbers of cyclists on the main avenues of some cities present specific transportation challenges.
"Cyclists really are the kings of the road; cars have to manage around them."
Zacharias has done research on bicycle use in China. For instance, in Tianjin, 52 per cent of all trips over half a kilometer are done by bicycle (in a city like Montreal, that number would be about two per cent by bicycle alone, 10 per cent by bicycle and on foot).
In Shanghai, Zacharias has surveyed some 2,000 households about their bicycle use. Among other things, he found that it doesn't decline as people's incomes rise. That's because even when someone can afford a car, it's still more efficient to ride a bike and not get stuck in traffic.
Political authorities see bicycles as an irritant in transportation, but Zacharias disagrees. "Cities should accept the major role of bicycles," he said. "It's a way of preserving traditional cultural life. Reverting to cars and buses will contribute to the decline of street life.
"People need to tell them: you have a wonderful situation here," he said. "I am quite happy if I can contribute somehow to that discussion."