Software with a human touch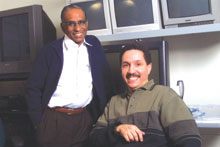 Computer Science Professor Thiruvengadam Radhakrishnan and Assistant Professor Ahmed Seffah are trying to bridge the digital divide.
They are part of a team called the Human-Centred Software Engineering group, or HCSE, who are trying to develop a new and friendlier generation of computer software. Radhakrishnan says he wants to design and develop user interfaces with enough virtual intelligence to overcome the frustration that many people have with technology.
Seffah holds the Concordia Research Chair in Human-Centred Software Engineering. Before coming to Concordia two years ago, he worked at CRIM, the Computer Research Institute of Montreal, where he studied user-interface design.
Currently the team is working in the ER building, but they are looking forward to the opening of the new complex on Guy and Ste. Catherine Sts., where the Usability and Empirical Studies Lab will have its permanent home, with state-of-the-art software, hardware and audio/video equipment.
The actions and expressions of the user are recorded by a camera from behind a one-way mirror, as are the contents of the computer screen. The facility includes a studio for design work, using storyboards, scenarios and mobile applications. Several testing rooms simulate real-work environments. A mobile and wireless component allows researchers to conduct studies with users at work and remotely via the Internet.
The first step is to analyze the way a person interacts with software; the second is to use the results these observations to design more useful tools.
"Our work is to develop tools and techniques that engineers can use to conduct studies and test usability," Saffah said. The work is new in Quebec and relatively new in Canada, though the Europeans have developed directives that certify IT products for usability.
Colours, smells, sounds all contribute to making a product user-friendly, but the visual cues are paramount, Saffah said. The challenge is not only to study and understand computer programs, but to understand the reactions they elicit. This requires familiarizing oneself with human behaviour and learning to record that information.
It's a multidisciplinary effort, combining psychology, industrial design, communication and the visual arts. The team is working with Psychology Professor Rex Kline, an expert in statistical and empirical data analysis, field observations, and surveys on development and administration.
One of the group's recent achievements is QUIM, the Quality-in-Use Integrated Measurement framework. It provides a database of more than 300 measures related to the user's perception of software quality. Quality is measured according to reliability, usability, efficiency, maintainability, portability and functionality.
Help for the technologically baffled can't come too soon, Seffah said. "Computers are everywhere, and we have a large variety of them now."
Usability studies may be applied to many devices beyond the desktop computer, including those used in medicine, in industry, and in mass transportation. In fact, usability is intimately coupled with safety and security. Saffah offered the example of a faulty cancer irradiation device that eventually cost some patients their lives.
This tragic example illustrates that designing the correct user-interface is not easy. "It requires research, user validation and careful balancing of many tradeoffs," he said.
Reprinted with permission from the current issue of the Engineering and Computer Science Faculty Quarterly.