Martin Singer named Provost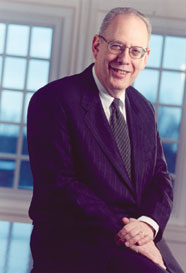 Concordia's Board of Governors has approved the recommendation of an advisory search committee to appoint Martin Singer, currently Dean of Arts and Science, as Provost, for a five-year term beginning June 1, 2004.
The Provost is the senior academic officer of the university. Singer will succeed Jack Lightstone, who is finishing his second five-year term.
Dr. Singer has a BA from Hunter College, and an MA in East Asian studies and a PhD in history from the University of Michigan. He has has been a professor at Concordia since 1972 and continues to teach in the Department of History. His field includes Chinese history and contemporary Chinese-Canadian academic relations.
He took on the post of Dean in 1997, and proved to be a dynamic leader. The search committee was impressed by his planning skills, his capacity to make judicious appointments, and his ability to earn the loyalty of other academic administrators in Concordia's largest faculty.
An able organizer, he successfully divided the department chairs into three sectors, humanities, social sciences and sciences.
Rector Lowy, in making the announcement, said, "I am very pleased with the appointment of Martin Singer to this key position.
"His commitment to academic excellence is exemplary and he has certainly left his mark on the Faculty of Arts and Science. His understanding of the issues facing the university in the coming five years and his grasp of the importance and potential of the role of Provost is most impressive.
"I have every confidence that he will provide strong academic leadership and build on the tremendous legacy left by Jack Lightstone."
During his 30-year academic career at Concordia, Singer served first as Assistant Provost in the new Faculty of Arts and Science from 1977 to 1980, and then as Provost in the Faculty from 1980 to 1985. He was also the founding Director of the Council for Inter-national Academic Co-operation from 1986 to 1989, and served as Acting Chair and Chair of the History Department from 1994 until he was appointed Dean.