Christopher Grudën: Second chance at success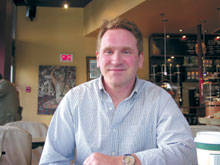 The valedictorian of this spring's graduating students in the Faculty of Engineering and Computer Science never thought he would win any awards at school. In fact, as a teenager, Chris Grudën was an academic disaster.
Now he has a dozen awards, including a gold medal from the Canadian Society for Mechanical Engineering. He also has varied experience in his field and a GPA of 3.9 — about which he says, typically, "I could have done better."
Grudën grew up in B.C., where he tried several university programs without success — "I had no discipline." He says now, "I have about 10 years on the students around me. I admire them for doing so well at their age, because it's hard."
He moved to Edmonton, where he got a job stacking shelves. That could have been the end of the story, but after six months, the company took him under their wing. He rose to a position of some responsibility, designing and building power trains (transmission systems), and handling half a million dollars in sales.
After six years of this success, and having got his academic feet wet through some evening and online courses, he realized it was time to plunge into higher education again, this time seriously.
McGill officials told him to go to CEGEP. He attacked the pre-engineering program at Dawson with such intensity that his lowest mark was 98 per cent. He did a year of chemical engineering at McGill, but switched to mechanical at Concordia, where he was chosen for the co-op (work-study) program.
Grudën is sold on the co-op — "Outside the university, it's known to have the best students" — but he admitted that it was a bit humbling after all his previous experience in the workplace. He enjoyed his terms at CAE, the world's biggest manufacturer of flight simulators, and at Transport Canada.
Being in the co-op means cramming more courses into the study terms. Grudën's first year in his four at Concordia was particularly busy because his wife, a teacher, gave birth to twin boys.
However, he welcomed the challenge of starting a family. "It almost helps a person. You go home and don't talk about your problems, because there's no time."
"Real education for the real world" means more to him than education with practical applications; it means just being real, being yourself.
"Concordia doesn't seem to care much about prestige — it cares about the students. It's a generous place. The professors give a lot of time to their students, more than they have to. If you try hard, the system is there to support you."