Kaori Wada takes grief counselling to Japan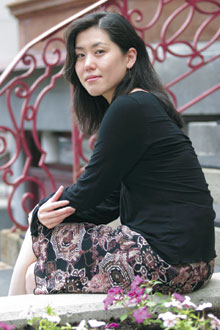 Kaori Wada came to study in Canada uncertain of her language skills. She will return to Japan confident in her leadership abilities and ready to challenge her culture's ideas about grieving.
Wada, who originally thought she wanted to study business, discovered a passion for counselling early in her university career.
Three years ago, the Applied Human Sciences major won a scholarship to attend the Association of Death Education and Counselling conference in Oregon on the strength of a paper she had written on bereavement. Since then, she has become a "co-facilitating member" at Mount Royal Commemorative Services, where she helps run a group workshop.
Last summer, she was invited to work as a facilitator and interpreter at an international summer camp for bereaved students in Japan. She turned this opportunity into an independent study course and presented her findings at last year's Association of Death Education and Counseling conference.
This July, she will work at a bereavement camp in Virginia before beginning a master's degree in counselling and psychology at McGill in the fall. She is finishing her last two courses and will graduate next winter. Her ultimate goal is to set up bereavement counselling in Japan, but she expects some resistance.
"The Japanese culture of shame makes it difficult to open up and show vulnerability," she explained. "However, it is not the only factor.
"Traditional family and community structures that used to facilitate the grief process have changed, and traditional mourning rituals have been simplified and lost much of their meaning.
"Regardless of all these changes, alternative support systems such as mental health care and the field of counselling have not been developed with the same speed."
In fact, counselling as an option for the general public is new to Japan; it is still stigmatized as an activity for the mentally ill. To compound her challenges, Wada will be a female professional with a foreign education in a culture where both are looked upon with suspicion.
At Concordia last fall, Wada organized a support group for female Japanese students to help them integrate into university life. She feels proud of what she has accomplished so far, and looks forward to a future of helping others.
"I've gained confidence in myself and in my leadership abilities," she said. The Applied Human Sciences Department has awarded her the A. Ross Seaman Award for her achievements.