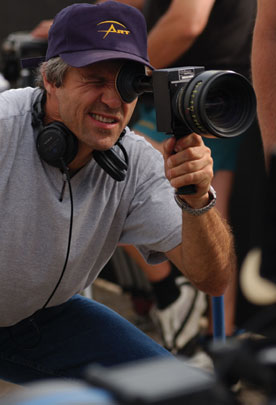 Jean-François Pouliot, a 1980 graduate of Concordia's Communication Studies program, hit a film jackpot last week when his popular feature La Grande séduction won a major award at the Sundance film festival.
Sundance is a kingmaker among filmfests. It has grown from a glint in the famous blue eyes of actor Robert Redford to the entrée to Hollywood gold for independent filmmakers like Stephen Sonderberg and Quentin Tarantino.
Non-U.S. features are not eligible for jury prizes, but La Grande séduction won the World Cinema Dramatic Audience award. Sundance audiences who loved the movie were just catching up to Quebecers, who took it to their hearts when it opened locally last summer. More
CTR online


The CTR appears every two weeks, but daily news is always available from News@Concordia

Jack Lightstone has seen a lot of change at Concordia over his two five-year terms as senior academic officer, and it's a transformation in which he played a leading role.
Nine years ago, when he assumed the post of Vice-Rector, Academic, as it was then called, programs usually started as the gleam in someone's eye. They were turned into a proposal, circulated among colleagues to gain support, and then made their way through the chair, the dean and Senate to get approval. More