In brief
Oscar Nibbles
For the second time, animator Christopher Hinton has been nominated for an Academy Award.
The nomination is for Nibbles: A Fishing Trip, described as a hilarious two minutes plus in pen and ink. It has also been nominated for a British BAFTA award, an Annie for the International Animated Film Society, and was shown at Sundance.
The film's inspiration was a fishing trip Hinton took with his sons, the animator told The Gazette's John Griffin.
"When we got home I thought it was a really weird trip. It occurred to me it was all about eating."
Hinton was previously nominated in 1991 for Blackfly, which has become an animated classic. He teaches in Concordia's Mel Hoppenheim School of Cinema.
This is an American website, and you won't find a scrap of Canadian content anywhere. However, it will please those who follow U.S. politics, and in any case, it's the idea of this website we want to salute.
FactCheck.org is a nonpartisan, nonprofit news-consumer watchdog paid for by the Annenberg Foundation of the University of Pennsylvania.
It's presided over by Brooks Jackson, a 30-year veteran of the Washington press corps and a demon for truth. He and his staff had a field day with the recent Iowa caucus, where the Democratic Party candidates told big fat lies about each other.
Somebody has to call politicians to account when they carried away, and FactCheck.org is doing it with the U.S. election campaign. Canadian truthseekers, could do likewise.
Feathers will fly in concrete toboggan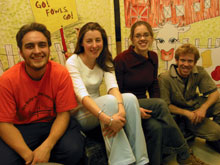 Photo by Greg Fretz
Enginerering students exercise their expertise and energy every year at the Great Northern Concrete Toboggan Race, taking place this year on Feb. 7 at Ottawa's Carleton University. Seen above are Concordia's finest, who call themselves the Flaming Fowl. Left to right are: Andrew Kwiatkowski, Alicia Gallagher, Jacelyn Daigle and Jason Edelstein.
Greek Media Seminar
The Hellenic Studies Unit, in collaboration with Washburn University and the Greek Ministry of Press and Mass Media, are sponsoring a Greek Media Seminar in Athens, March 21 to 27.
The seminar will examine, among other topics, the Greek communication media and their preparation for the Olympic Games in Greece this summer. All university students registered in Mass Media, Communication Studies, Journalism, Political Science and Hellenic Studies are eligible.
Lodging and seminar enrolment fees are free, but students are responsible for their air fare.
Air Currents in Ottawa
The John Molson School of Business and the International Centre for Aviation Management and Education (ICAMER) hosted a conference called Air Currents: Building the Future of Canada's Air Transport Policy at the Westin Hotel in Ottawa on Jan. 27 and 28.
The conference brought together academics and aviation industry professionals to discuss issues facing the turbulent aviation industry.
These included Canada's international air transport operations, the structure of Canada's domestic air services, regulations governing the competitive structure of the industry, and the role of key service providers.
They also looked at the impact of new security requirements and the dramatic cost increases resulting from the events of Sept. 11, 2001. ICAMER is under the direction of JMSB Professor Dale Doreen.
Industrial engineers meet
The students of the Concordia branch of the CSIE (Canadian Society for Industrial Engineers) are hosts of a conference this weekend at the Montreal Marriott Chateau Champlain.
The event, which includes competitions, is expected to draw more than 400 students and 100 professionals from across Canada.
The CSIE has held a conference every year for the past 23 years.
Centraide reaches goal
$120,000 raised in campaign
Concordia Centraide co-chairs Kathleen Perry and Miriam Posner are delighted to report that the 2003 campaign more than achieved its financial goal. A total of 330 donors pledged $102,644, and events, which ranged from bake sales to loony lines, raised $18,629. Centraide Montreal raises money from individuals, businesses and institutions to support non-profit agencies in the region.
"The number of donors has remained constant, but we are seeing more money raised each year," Perry said.
She and Posner want to thank everyone who gave, everyone who organized and took part in all the fun activities, the sponsors who were so generous, and the Centraide committee, who pitched in for this marvellous volunteer effort.
Canadian Idols sing for Centraide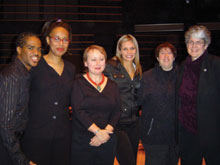 Photo by Laurel Leduc
Singer/teacher/choir director Jeri Brown (in glasses) brought her Con Chord Singers and Canadian Idol TV stars Gary Beals and Audrey de Montigny to the Oscar Peterson Concert Hall on Saturday, Jan. 24, for a concert to warm up a cold night. The proceeds went to the university's 2004 Centraide campaign. Seen with the performers are this year's Centraide co-chairs, Kathleen Perry and Miriam Posner, and Professor Catherine Mulligan, a member of the committee.