In brief
Alistair MacLeod speaks here
Alistair MacLeod, whose novel No Great Mischief won the world's richest literary prize, the IMPAC Dublin Literary Award, will speak at Concordia on Tuesday, Jan. 20, at 11:45 a.m., in the DeSève Cinema.
No Great Mischief is set in Nova Scotia's Inverness County, where MacLeod grew up. It instantly made its author an international celebrity. As well as the 2001 IMPAC, worth 100,000 British pounds, it won the Dartmouth Book Award for Fiction, Ontario's Trillium Award for Fiction, and many other honours.
Also the author of two acclaimed short story collections, The Lost Salt Gift of Blood and As Birds Bring Forth the Sun, MacLeod recently retired from the University of Windsor, where he was a professor of English.
His short fiction was recently collected under the title Island (McClelland & Stewart, 2000).
Two Concordia students have started a website to give Montreal's university students a voice.
Still in its early stages, the site has links to clubs and organizations found at six schools in the city, including Concordia.
"When I first arrived at Concordia, I was lost," said Mohamed Tarraf, who goes by the Web name Mynos. "I wanted to meet people, and for a new person, it's not easy.
"A new student in search of an apartment, someone who isn't sure of where events are happening — I developed this site to help students in their university life." He and his partner, who goes by the name Rhadamanthys, hope students will respond by making Exklamation their own forum.
Grad Symposium
On Jan. 16 and 17, four Concordia graduate students will join grads from McGill, UQAM, the Université de Montréal and the SUNY at Binghamton at the Montreal Museum of Fine Arts' first-ever graduate symposium, Show and Tell: Display Practices, at the Montreal Museum of Fine Arts.
Professor Joan Acland of Concordia's Art History Department served on the organizing and selections committee.
Speaker on India and the WTO
Professor Mritiunjoy Mohanty, from the Indian Institute of Management, Calcutta, will be giving a talk on "The WTO and India's Integration into the World Economy."
His lecture is sponsored by Concordia's South asia Studies Program.
It will be given on Friday, Jan. 16, at 4 p.m., in Room 441 of the Henry F. Hall Building.
Ignition art show
The current show at the Leonard & Bina Ellen Art Gallery, called Ignition, was created as an opportunity for advanced master's students to be seen at the university's own art gallery in a show organized by professional curators.
This year, curators François Dion, Director of Artexte and Michèle Thériault, Director of the Ellen Art Gallery, selected the projects.
The inaugural edition of Ignition features the work of Tetsuomi Anzai, Adele Chong, Geoffrey Jones, Tricia Middleton, Adrienne Spier and Chih Chien Wang. They work in a range of media, including video, photography, installation, Internet, sculpture, painting and drawing.
Ignition runs until Feb. 14 at the Gallery, 1400 de Maisonneuve Blvd W Admission is free, and there are several organized events (See Back Page).
Lucky laptop winner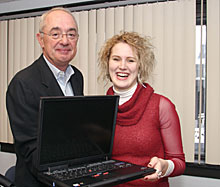 Second-year student Maria Hunt (above) was the lucky winner of an IBM Thinkpad laptop recently. It was donated by Alain Benedetti (seen at left), chair of the Board of Governors, who won it in a Shuffle raffle in October and offered to pass it on to a needy student.
Financial Services put together a pool of about 170 students who had applied for bursaries, and the draw and presentation took place in December. Mia, who is majoring in design art, was overjoyed.
The laptop was given to the Shuffle raffle by the Director of the Building Fund Campaign with the Vice-Rector Internal Relations and Secretary-General. It is valued at $4,000 plus, although the cost to the university was considerably lower.