Concordia wins MBA Case Competition at home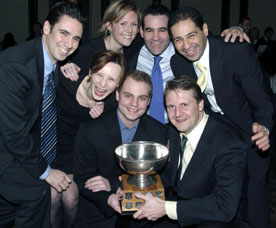 For the first time in its 23-year history, the John Molson MBA International Case Competition was won by the home team.
The event included teams from as far away as Finland and New Zealand, but top honours went to Concordia's own John Molson School of Business. Second place went to the Rotman School of Business (University of Toronto) and third to the Haskayne School of Business (University of Calgary).
"We improved throughout the week, and things just kept getting better," said Tamara Huggan from her hotel room in Hamilton, Ont., where the team is already in another competition at McMaster University.
More than 120 students from 32 universities converged on the Bonaventure Hilton Hotel last week for the round-robin competition, which tests students' business smarts on a succession of five business cases. Each case, contained within a sealed envelope, is a real-world business problem. There's no one right answer; it's a case of which strategy is favoured by the judges.
The teams are sequestered in their rooms to work out a strategy over three hours. They have to present their solution without a computer. A panel of judges from Montreal's business community picks a winning team, and by elimination over the course of the week, the winning team emerges.
Kelly Patrick says judges favour substance over style when it comes to deciding a winner. They look for a feasible solution within the framework dictated by the case. "Sometimes students will make too many assumptions."
The so-called live case, presented to all teams, is the best example of how the competition attempts to bridge academic and corporate culture. This year, competitors were challenged with the question of whether or not Bombardier should build a 100-seat aircraft and enter a new market.
This year's organizers – Concordia MBA students Kelly Patrick, Geoffrey Kalil, Anna Gunaratnam and Caitlin Patterson – had such demand for participation that the field of competitors was bumped up from 30 to 32. "We were filled up much earlier than we had been in the past," Patrick said. Some applicants even had to go on a waiting list.
The event is touted as the oldest, largest and only global case competition of its kind in the world. No one goes home empty-handed either, as the experience itself is well worth the effort.
"Obviously we're all looking for jobs when we graduate, so taking part really shows how you stand out from your class. It's also very much a social event, where students can network and interact," Patrick said. Students also make useful contacts with the business people who volunteered as judges.
There are other payoffs, Patrick concluded. "It gives us confidence in our program. It brings together all the skills we've been learning. It's been a very intense experience, above and beyond anything we've done."