In brief
Concordia writers win big in Quebec annual awards
The Concordia connections were many, as the Quebec Writers Federation gave out its annual awards Nov. 26 at the Lion d'Or.
David Homel, who has taught in creative writing in the English Department, was the big winner of the evening, although he couldn't attend because he is putting in time as a writer in residence at a university in Bordeaux, France.
Homel, a native of Chicago who came to Quebec in the late 1960s and adapted with élan, won the Hugh MacLennan Prize for Fiction for his novel The Speaking Cure, set in contemporary Yugoslavia.
Homel and collaborator Fred A. Reed won the Translation Prize, sponsored by Office of the Commissioner of Official Languages, for The Heart is an Involuntary Muscle, from Monique Proulx's Le coeur est un muscle involontaire.
The McAuslan First Book Award went to Neale McDevitt, for One Day Even Trevi Will Crumble, and the A.M. Klein Poetry Award went to Susan Gillis, for Volta. Both McDevitt and Klein are Concordia alumni, and Corey Frost, whose My Own Devices was nominated for the First Book Award, is a student. All three were profiled in CTR last year in our Feb. 13 issue.
Finally, Linda Leith, who has taught in the English Department, was awarded the Community Award for her many contributions to Quebec's English-language literary life, particularly as the founder and artistic director of the Blue Metropolis International Literary Festival.
Congratulations to them all, and to Véhicule Press, run by Nancy Marrelli, Concordia's Archivist, and Simon Dardick, who teaches a publishing course in the English Department.
Véhicule is celebrating its 30th anniversary this year, which in publishing years, like dog years, is about 90. Our congratulations for this remarkable longevity, and for seeing to it that English-language literature in Quebec continues to flourish and grow.
Concordia's aspiring accountants surpass test averages
Every year, aspiring chartered accountants write the UFE, or uniform final examination, set by the professional association that accredits CAs. With Quebec's first and much-imitated program tailor-made for the UFE, Concordia's John Molson School of Business always produces above-average results.
This year their UFE pass rate was a solid 75 per cent for first-time writers, surpassing both the Quebec average of 74 per cent and the national average of 69.6 per cent.
There are 66 new CAs in the class, of whom 54 were first-time writers and 12 were writing the exams again. Three students made the honour role: Eddy DiSanto, Lisa Ann Merino, and Elise Lefebvre.
Artist Mitchell Akiyama receives Dora Morrow Fellowship
A reception was held Nov. 20 in the Old Montreal head office of Avmor to present the Dora Morrow Fellowship for Excellent Achievement in Visual Arts to rising avant-garde artist Mitchell Akiyama.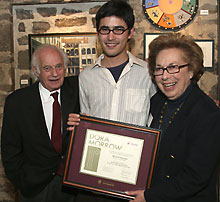 Akiyama is a composer and sound, video and visual artist with classical music background. He completed his BFA at Concordia with distinction, and is currently in his first year of an MFA program in studio arts, specializing in open media.
He takes compositions using traditional instruments, primarily piano, guitar and strings, and digitally deconstructs them. His first album, Hope that lines don't cross, was released on Alien8 Recordings' sub-label Substractif in 2001. His second solo work, Temporary Music, was released in 2002 on the highly regarded German label Raster-Noton.
He has also started collaborating with Cincinnati-based musician Joshua Trebele. Their two albums, Climate Variations and Iambrokenandremadeiambroken have been praised by critics. Akiyama is also active in video, design and multimedia, and his concerts are often accompanied by video projections. His videos have been shown at Montreal's International Festival of New Cinema and New Media and Toronto's Images Festival, among others.
The award was made in the name of his wife by Avi Morrow, a businessman with a passion for art that he exercises in a variety of ways. Guests at the reception were treated to a tour of Avmor's eclectic quarters, which is filled with commissioned paintings, drawings, collages, painted neckties and an indoor sculpture garden of found objects.
Soccer team finishes strong season
This year's Concordia Stingers men's soccer team capped a strong season, in which they were unscored at their new home Loyola field.
The Stingers recently participated at the Soccer Nationals hosted by the Université de Montréal.
Although they did not win, they played a strong game against the No. 1 ranked Alberta Golden Bears with a 2-0 loss.
The game ranks as one on of their best matches of the season, said veteran Stingers coach Vladimir Pavlicik.
The team has 15 rookies. Pavlick and the players hope to return to the Nationals again next season.
Stingers soccer player Ammar Badawich was named to the second CIS All-Canadian team and was selected as part of the National Tournament All-Star team.