Associate professor's research awarded five U.S. patents
Chunyan Wang, an associate professor of electrical and computer engineering, has been awarded five U.S. patents for her recent work in micro-electrical research. Wang, who came to Concordia in 1997, collaborated with researchers in Concordia and other institutes for her research.
"She is one of our youngest successes," said Dean Nabil Esmail. "It shows the calibre of professors we have at Concordia."
Wang's research helps detect signals over a wide range in integrated circuits. The results can be used in real-time signal acquisition and processing systems, in particular for sensor interfacing.
Robert Richard, vice-president of commercialization for Gestion Valeo, a company that helps Concordia researchers take their inventions to market, said Wang's work could be applied at the manufacturing level in consumer electronics and automatic vehicles.
Wang currently has seven patents filed, of which five have been approved. Of those, three have received official certificates from the U.S. Patent Office. Officials with Gestion Valeo said they chose to have the inventions patented in the U.S. because of its larger market.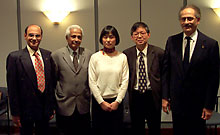 The patents range from a multi-mode current-to-voltage converter and a transistor-mismatch-insensitive current comparator cell to a method and circuit for a current-controlled oscillator.
Some researchers choose to go into their own business, but Valeo and Wang have decided instead to market licensing of her research.
Wang studied at the Université Paris Sud. While she was doing her PhD, she was exposed to some problems which were considered as obstacles in the design of integrated circuits with integrated sensors for high-sensitivity, wide-dynamic-range and low-power operations. Her inventions provide effective solutions to these problems.
Drs. M.N.S. Swamy and M. Omair Ahmad, who are the co-inventors of an invention with her, said it was pleasant to work with her on proposing simple yet effective solutions to difficult problems.
"We are very proud of her," Dr. Ahmad said.
-Angie Gaddy