Students re-imagine Griffintown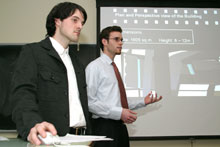 Griffintown is barely known to Montrealers now, but in the 19th century, the neighbourhood along the Lachine Canal was known as the industrial heartland of Canada.
Students in the Advanced Urban Laboratory, a one-year studio in the Department of Geography, Planning and Environment, have been working on redevelopment schemes for the area, and they presented their final projects on April 1. Their professor, Pierre Gauthier, explained.
"Through their planning and design proposals, the students have made a valuable contribution to the current debate on the redevelopment of an important sector of the city. This neighbourhood is a priority for the South West borough and for the city of Montreal, which is currently working on a plan."
Griffintown was urbanized in the first half of the 19th century and occupied mainly by Irish immigrants, but in the 20th century, the neighbourhood gradually decayed.
The government has recently invested $100 million in the redevelopment of the Lachine Canal to open it to recreational boating, and to build a linear park and bicycle path along its banks, which you can see at http://canaldelachine.qc.ca.
"There are indications that some old working-class districts neighboring the canal like Griffintown could experience an urban renaissance," Gauthier said. "The question that arises is what kind of a future do we want for Griffintown?"
In their first semester, the students focused on the historical, social and economic changes to the area, and assessed its qualities by using various survey techniques.
All this preparatory work led to the second semester, during which they developed site-specific urban regeneration projects and complementary policies. The whole idea was to create a more sustainable environment in the Griffintown area.
Gauthier says the Advanced Urban Labora-tory approach uses sustainable development as its underlying theoretical framework. As defined by the UN's Brundland Commission Report of 1987, this means development that meets the needs of the present without compromising the ability of future generations to meet their own needs.
Four guests participated: Julie Nadon, of the South-West borough, Pierre Morrisette, with the grassroots group RESO, Gabriel Bodson, Senior Urban Designer, City of Montreal, and François Racine, of the Université de Montréal and Atelier B.R.I.C.