Charles Ellison talks and plays history of jazz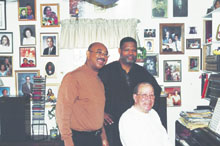 Music Professor Charles Ellison is a performer as well as a teacher. He's also a well-travelled historian of jazz through his work with the Smithsonian Institution, whose museum and research services are used by millions of people.
The Smithsonian's jazz preservation program collects oral histories from jazz musicians for public use at the National Museum of American Hist-ory in Washington, D.C.
In February, Ellison travelled to the Morristown, N.J., home of 81-year-old Bobby Tucker, who gave him valuable information about the socio-political atmosphere in which jazz evolved.
"He talked about the loss of talent and potential associated with drug abuse," Ellison said. "Not only did we lose musical talent, we lost positive role models."
Ellison went on to explain some of Tucker's 60-year career. It's a good example of the stories he is able to draw from these vastly experienced musicians.
Tucker began playing the piano at 16. He served as a musician in the military in Cheyenne, Arizona, from 1943 to 1946. After being discharged, he played with singer Mildred Bailey until one serendipitous moment in 1946.
He happened to be passing a club in New York City where Billie Holiday was scheduled to perform in 10 minutes. Clarinetist Tony Scott approached him as he walked by and informed him that she was in a bind. Her pianist had just quit and she needed an immediate replacement.
Tucker was invited on stage and played without so much as warm-up. Impressed by his repertoire, Holiday offered him a job as her accompanist, and he stayed until 1949.
After leaving Lady Day, as Holiday was affectionately known, Tucker became the conductor of the Billy Eckstein Band. The band included trumpet player Miles Davis, singer Sarah Vaughan, saxophonist Charlie Parker, drummer Art Blakey and saxophonist Dexter Gordon, as well as many others.
Ellison's own career was marked by warm encouragement of a talent that was recognized early. Although his own parents preferred gospel music and the blues, they supported his passion for jazz. Like his two best friends, Ellison took up the trumpet for the eighth-grade school band, and excelled from the start.
"The day I got my trumpet and fooled around with it, I knew that I would be a musician," he said. He went on to study under David Baker at Indiana University. This led decades later to an appointment to the Smithsonian Masterworks Jazz Orchestra in 1991, which Baker co-directed with Gunther Schuller.
The orchestra was established with an endowment fund from the U.S. government as a national infrastructure to support jazz preservation and production. It performs for the public monumental jazz pieces like those by Duke Ellington and Mary-Lou Williams in the hope of fostering an appreciation for both new and classical jazz.
"You can see the joy and the jubilation of the orchestra projected into the audience, from kids to seniors," Ellison said. "They just love the music! They begin to tap their feet and get up to dance."
The orchestra has toured nine countries, including Canada. Ellison travels from Montreal to Washington for the rigorous practicing and performing schedule. The experience has brought many gifts, like opportunity to get to know his own hero, trumpeter Joe Wilder, with whom Ellison has become close friends.
"For me to pick up my phone and have him play Happy Birthday to me or to call up and write a special piece for my daughter Sionna is unbelievable," Ellison said, smiling warmly. Sionna, who will be one year old on April 23, is Ellison's youngest pupil and often falls asleep to something from Wilder's discography.