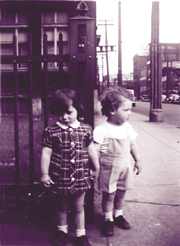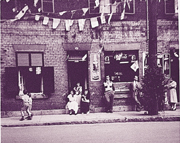 McDonnell's Store at the corner of Wellington and McCord (now Mountain) Sts., a popular place to meet friends after Mass or a Tuesday devotion service at St. Ann's Church across the street.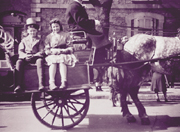 This Irish jaunting cart was built at the end of the 19th century and has taken part in St. Patrick's Day parades ever since.
Photos courtesy of Richard Burman

by Dana Hearne

"There was a two-year period when the only food I got was what I was able to scavenge out of other people's garbage," recalled Denis Delaney.

"I'll never forget the first time I ate lobster," he chuckled. "I rooted it out of the garbage behind Mother Martin's restaurant. They always had great garbage."

Denis, who was born in Griffintown in 1933 and lived there until he was in his late 20s, was one of a panel of speakers sharing memories of growing up in Griffintown in the first half of the last century at a gathering of former residents. It was held on Nov. 6 at Concordia's Centre for Canadian Irish Studies, in the atrium of the Samuel Bronfman House on Dr. Penfield Ave.

Most people don't know that 40 per cent of francophone Quebecers have some Irish blood. In his opening remarks, Dr. Michael Kenneally, the Interim Director of the Canadian Irish Studies Centre, said that the story of the Irish in Quebec and Canada is not well known, and that this gathering of Griffintowners was the first of what he hopes will be many community outreach initiatives.

Coming of age in Griffintown

Griffintown stretches from Guy St. to McGill St. (just east of University) and from Notre Dame St. to the Lachine Canal. Don Pidgeon, amateur historian for the United Irish Societies, spoke of the people and places that made Griffintown such a special place to grow up.

He told stories of floods, fires, and bombs; the building of the Irish jaunting cart completed in 1887 which has taken part in the St. Patrick's Day parade ever since; Leo Leonard's "Griffintown Horse Palace;" and, of course, the story of the ghost of Mary Gallagher, brutally murdered in 1876, who returns every seven years in search of her head. "The next ghost watch is June 26, 2005," he reminded the audience.

Fr. Tom McEntee, who was appointed to the Order of Canada for his involvement in community affairs, spoke of the Griffintowners who made significant contributions to the civic, business and religious life of Montreal. He said that 1967, the year of Expo, marked the big change for Griffintown. "It was lost to roads and construction. People moved out and that was about the end of it."

Betty Tanney (Bryant) was one of three Griffintown women along with Annie Wilson (Coughlin) and Rita Savoie (Earle) who shared their memories. "I feel I was very loved and very favoured to have grown up there," she said.

Betty was born in Griffintown in the early 1930s. She was one of two children. "We were poor," she said, "but I didn't think we were poor." The neighbours looked out for each other and "through the school and the church there were debates with the boys' school, drama and music festivals, a bowling alley and romances," she recalled fondly.

Religion was an important part of the community and Betty spoke of Tuesday devotions and monthly sodality meetings: "The nuns and priests centred us." But the English Catholics weren't allowed to associate with the French families or Protestants. "You wouldn't dare bring home a Protestant boy," she remembered.

When she left Griffintown in the 1950s, she went to live in Candiac and later came back to Montreal to live in NDG. She once found it hard to imagine that people lived in houses as huge as the houses in NDG, and now she's living in one. "So, I've arrived," she said, with a broad smile.

Denis Delaney's bad memories, associated with poverty, hunger and the alcoholism in his family which plagued his father, his brother and himself, were interspersed with the memories of great times in Griffintown.

He counted 200 jobs that he lost between the ages of 21 and 35 when he turned his life around. "I live in Westmount now," he laughed. He will never forget what a great place it was to grow up in — the fun, the great friends and great neighbours.

"The memory of Griffintown is a nurturing thing for me," he said, "a place to go, physically and mentally, when I am trying to work something out. I am one of the future ghosts. I have told my wife that I want to be cremated and to have my ashes sprinkled all over Griffintown."

The evening was a rare opportunity for Griffintowners to come together and meet old friends and neighbours, in many cases for the first time in years, and to see the vibrant interest in the community they still hold so dear.

For more information about the Centre for Canadian Irish Studies, call 848-8711. For information about the documentary film about Griffintown see Richard Burman's Web site: http://ourworld.cs.com/griffintowndoc.