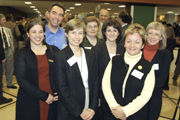 (Click on image to enlarge)

Seen last September, at the annual welcoming reception for international students are, left to right: Mary Laliotis (John Molson School of Business), Glen Thomas (Arts and Science), Cathy Hirst (Fine Arts), Elena Marsillo (an interviewer for all Faculties), Danielle Pullen (JMSB), Heidi Wiedemann (Arts/Science) and Virginia Bowker (Fine Arts).

Photo by Andrew Dobrowolskyj

by Lisa Harding

When Cathy Hirst became an admissions counsellor for international students at Concordia 14 years ago, she had no idea that part of her job description would involve detective work — and that she'd like it so much.

"Students can order diplomas made up for universities they have never attended, sometimes the universities do not even exist. So you need to check that the university does exist, that it is accredited, and that it offers the program the student took. I like the research involved," Hirst said.

It's a good thing she likes investigating. "It seems as if we are receiving more forgeries than we used to. It's sometimes difficult to tell. I probably see maybe two or three a session. The other counsellors probably see about the same," she said.

International applications differ

Although international students make up only seven per cent of all Concordia undergraduate students, applications are not as straightforward as those from Quebec or other Canadian provinces. Counsellors need to research the education system of the student's home country, including the grading system. Both the translated and untranslated versions of transcripts have to be verified for authenticity as well as for accuracy.

This is where teamwork among the admissions counsellors comes in. As the most experienced, Hirst is called upon most often. Glen Thomas, an admissions counsellor for seven years, said, "I often go to Cathy because she has a lot more experience dealing with international students. We rely on each other and consult each other if we have any doubts about something."

More often than not, the research is extensive. Counsellors consult libraries, other universities, Web sites and embassies to get accurate information. When she is really stumped, Hirst calls on education credential evaluators — companies that make it their business to check out educational qualifications — but this only happens about five or six times a year.

Then there are times when the experts can be found right at Concordia. "I received a transcript in Korean, and when I consulted the book, the translation didn't look right. A Concordia professor who speaks Korean checked it, and the translation was wrong. Each D grade had been translated as a B," Hirst said.

The application process can be complicated. Claudette Fortier, coordinator of the International Students Office, deals with the myriad questions from newly admitted and regular international students on a day-to-day basis. She says the questions start long before the students arrive in Canada.

"International students will communicate often with the admissions counsellors because they don't understand our education system."

As a result, admissions counsellors are faced with a heavy workload, and both Hirst and Thomas admit it is a challenge. In 2000, Concordia received 3,008 international applications. In 2001, this jumped to 4,500 applications.

Hirst says she sees about 1,400 applications per session herself, though not all of them are international. "We do a lot more things on the computer which in some cases makes it faster. In some cases, you just have to work harder."

Unlike Fortier and her staff, admissions counsellors don't often get the satisfaction of meeting the students they have admitted. Fortier says they deserve recognition. "The students are here because they have been admitted and we don't often acknowledge the hard work the counsellors do."

Thomas says it's this end result he enjoys the most. "Seeing the students happy with their acceptances — that's always a good feeling," he said.

Hirst agrees that meeting students is a highlight. "The best thing is the opportunity to meet with students from all over the world. I don't see a lot of them because once they have a letter of acceptance, they don't have to deal with me any more. It's nice when I go to the reception [for international students], because I'll match a face with a transcript."