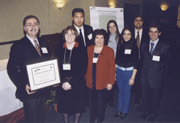 Seen at the co-op employers' reception, held Feb 6, are (left to right): Michel Gagné (Pratt & Whitney Canada), Christine Webb (Director, Institute for Co-operative Education), Norman Tam (MIS alumnus and president of 118 Company, a co-op employer), Dr. Meral Büyükkurt (Director, JMSB Co-op Programs and Academic Director, MIS Co-op Program), Michelle Myszka (HRM alumnus), Priya Chopra (Marketing alumnus, L'Oreal Canada), Michael Nessim (Finance alumnus, PriceWaterhouseCoopers), and Felice Moriello (Accountancy alumnus, Samson Bélaire/Deloitte & Touche).


Photo by Russell Proulx
(click on image to enlarge)

by Barbara Black

About 300 people crowded into the downtown faculty club for a reception on Feb. 6, held to honour long-time co-op employers and students. The event was jointly hosted by Concordia's John Molson School of Business and Institute for Co-operative Education.

Eleven awards were given out to companies who have consistently provided placements for co-op students: Bombardier, Fuller Landau, Imperial Tobacco, Industry Canada, KPMG, Merck Frosst, PriceWaterhouseCoopers, Raymond Chabot Martin & Paré, Rooney Greig Whitrod Filion & Associates, and TD Bank. A special award also went to Pratt & Whitney for their exceptional support of the co-op programs over the years.

The John Molson School of Business offers co-op programs in accounting, finance, human resource management (HMR), management information systems (MIS), and marketing. About 250 undergraduate business students are involved in the co-op program at any one time. These students alternate academic course-work with four different work terms, and graduate with excellent work experience.

Meral Buyukkurt, director of co-op programs at the School, said, "The high rate of returning employers, even in hard economic times, is evidence of the quality of the students we send to them and the real benefits that exist for employers as well as for students in the program."

Here are just three examples of recent co-op business students:

Norman Tam, for instance, is an outstanding MIS student who was hired as a consultant by Air Canada and Deloitte Consulting, two of the companies that he worked with during his co-op stages. After graduating, Norman started his own business in software development — and his first employee was a co-op student.

Priya Chopra is a bright marketing student who spent two of her work terms with a Campbell Soup marketing team. She also worked as a co-op student with L'Oreal to launch a new fragrance, and L'Oreal Canada hired her full-time when she graduated.

Shivali Misra is a finance student in the Ken Woods Portfolio Management Program. She did a work term at Dundee Bancorp Inc. in Toronto, and is now at the Caisse de depot et placement de Québec. She is also part of a team of John Molson School of Business undergraduate students that manages a live portfolio of $1 million as part of their course work.