! THURSDAY REPORT ON-LINE> <! 29/04/99 Issue> <! Site Designede and Developed by: S. Mehrad B.Eng. For comments and problems contact: technical@mehrad.qc.ca> <! http://www.mehrad.qc.ca>



<! ________________________________________________________________________________>
Exploring cultural difference through fiction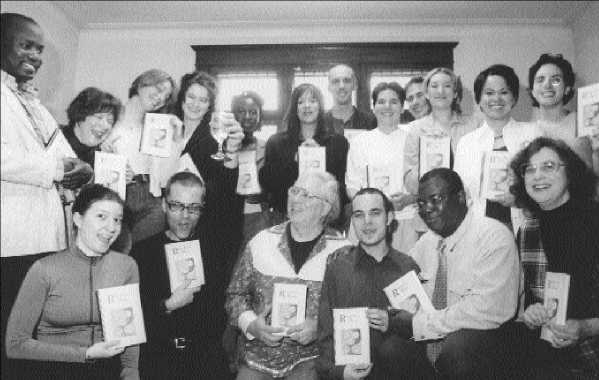 Every year, Journalism Professor Sheila Arnopoulos teaches a course at Lonergan College called The Interdisciplinary Experience: Global Cultures. An important part of the course is to write fiction based on their experience of cultural difference.
The resulting 19 stories have been published as a book, called Round the Block -- Stories Across Cultures. The proud authors launched their baby at a wine-and-cheese reception on April 14.
The stories reflect many issues -- racial, sexual, economic and domestic. Philip Deering wrote about the trial of Oka protesters from a Native perspective. Nienke Blauw wrote about a young Dutch woman trying to help two West Africans emigrate, with the result that their friendship is strained. Tina Andreatos wrote a tender love story between two women.
Even the physical aspects of the book were student-driven. Tina Andreatos did the illustrations for the stories, Dan Williams designed the cover, Gerald Arhin and Johanne Yates took care of the financing, and Philip Deering undertook the desktop publishing under the eye of Journalism teacher Patchen Barss.
Professor Sheila Arnopoulos (far right) and her Lonergan College class celebrated their short-story collection at a wine-and-cheese book launch. Copies of the book may be purchased at Lonergan College, 7302 Sherbrooke St. W.
---
Make my (business) day

Drop zone. End of the business day. Make my business day. Empty office. 46th floor.
Look at this plush. Leather chairs, laptops, floor to ceiling windows. Our misty and sunsmack city hazy at the day's end, golden all around us, to the water and beyond. Looking south to the St. Lawrence from the financial district . . . from here all green churchtops, row on luminescent row of blinding bright brown stone.
But I gotta drop this puppy. Where's my bureaucrat with the pen that begins my weekend. . .
The man in the corner office talks sideways through his telephone, "I don't deal with messengers." Sunlight falls and reflects through one window and into the other, illuminating his office like he was God's head barrister.
I tell him he's the only person in the office. He begins to yell, "Maureen! MAUREEN!" No one answers.
To me, "I'm not touching your package! I won't touch that package!"
I'm holding the envelope in front of him, maybe 12 inches away from his face. He pulls back, arms straight, hand on the edge of his side of the desk, showing six full chins, the phone still cradled at his ear. Like a child being force-fed liver or brussels sprouts.
You stink. You stink like Old Spice, Aqua Velva, new shoes, dry cleaning chemicals, cigarettes clorets bad shits you stink like vo5 like finesse 2 in 1 shampoo and conditioner -- fartin' out veal cutlets and 12-year-old scotch. . .
I feel rage. I feel to be the beast he sees. I stamp one hoof, then the other.
- from Company Colors, by Torrey Pass
Blame the cockroaches

One of the reasons why we all go to church is protection against witches and evil," remarked Auntie Adwoa. "Do you know that?
Kofi replied to his auntie gently, "No . . I don't know." Kofi's aunt looked him up and down as if to say, "You are a kid, so you don't know anything."
"What do you mean?" asked Kofi.
"Witches did that, I believe. Witches put the cockroaches on your father's bedside so as to make him fail in life. Since the time we saw the cockroaches on your father's bed, Kofi, he has failed in all things he has been doing . . . Even in England with two of his half-brothers, he didn't make it."
- from Kyei, by Kofi Akosah-Sarpong
White daddy

Everything and everyone stood still. A white daddy? Past conversations and inquiring stares now made sense. Is that why people were staring at me with such pity? Because I have a white daddy? When she was alive my mamma never mentioned anything about my father. Just that there are things in life that are too painful to the soul and are not meant to be talked about. I remember seeing the deep sadness and then the raging fury in her eyes as she reminisced about things far far away. I used to imagine that my father was a great African prince who was brutally murdered for petitioning for the rights of his people. But as I looked at the sea of embarrassed and apologetic faces I realized that the truth was finally revealed.
- from A Place to Call Home, by Nicole Scott <! _______________________________________________________________________________>



Copyright 1999 Concordia's Thursday Report.