---
Nancy Torbit, 1947-1998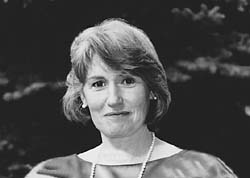 The Loyola Chapel was filled to capacity on May 13 as family, friends and colleagues said farewell to Director of Concordia Health Services Nancy Torbit, who died May 9 after a courageous battle with cancer.

Nancy attended Loyola, and joined the College's health services unit there as a nurse in 1972. She soon became the first director of a Canadian college or university health service who was not a physician, something of which she was very proud.

As her longtime friend Ann Kerby said at the memorial service, "From the beginning, Nancy was committed to promoting the nurse-practitioner role in the Canadian health care system.

"As I look through our policy manuals, calendars and handbooks, I see Nancy's wisdom and common sense throughout; for example, the emphasis on prevention and on the health consumer, especially among the students.

"Nancy saw that insurance policies included references to HIV policy and psychiatric care. She promoted the employee assistance program, and influenced the development of policies regarding disruptive behaviour. Her contribution to Concordia was an expression of her professional integrity, her skills and her belief in people, especially students."

Nancy is survived by her husband, Gary, and their two daughters, Meghan and Lindsey, who took an active role in the memorial service.

Student Services has established the Nancy Torbit Memorial Endowment Fund. Those wishing to make a contribution to this scholarship/bursary fund may do so through the Advancement Office.
---
Frank Knowles, 1923 - 1998
Concordia lost a good friend on April 29 when Frank Knowles, longtime member of the Board of Governors, died of cancer.
Frank was educated at McGill University as a chartered accountant. He joined the staff of Power Corp. in 1964, rising through the ranks to become president from 1986 to 1991, after which he was deputy chair until his retirement in 1993, and director emeritus until his death.
He joined Concordia's Board of Governors in 1987, and was a faithful and active member. His expertise was particularly valuable with regard to the University's finances, and he chaired the Board's audit committee from 1987 to 1996.
Active in many spheres of community life, he was a key fundraiser for the recent renovations to St. Patrick's Basilica, and the restored park in front of the church has been dedicated to him. His funeral was held at St. Patrick's on May 2, and the University was represented by Vice-Rector Marcel Danis and Secretary of the Board of Governors Amely Jurgenliemk.
---
Anne Stokes Reader,
1915 -1998
Professor Anne Stokes was a pioneer in the education of teachers of English as a second language, and the founder of Concordia's TESL Centre.
In 1969, she founded a TESL certificate program at Concordia, and in 1973, the first TESL centre in Canada. In 1974, a BEd (TESL) program was begun, followed in 1976 by a Master's program (MA in Applied Linguistics), also a Canadian first.
After she took early retirement in 1977, Anne was one of the first Canadian professors to be sent to China on an exchange program by the Department of External Affairs. Back in Canada, she translated for both the federal and Quebec governments. In 1978, in recognition of her contributions, she was awarded the Canadian Silver Jubilee medal by the Governor General.
Her foresight and initiative helped create a global industry as well as a profession. Concordia's graduates have taught in 84 countries around the globe, and the centre she founded here is recognized as one of the finest in the world.
The Anne Stokes Medal is given annually to the highest ranking BEd (TESL) graduate at Concordia as a reminder of her contribution.
She is survived by her daughter, Dr. Cheryl Stokes Murray, of West Hartford, Connecticut, and by her son, Graeme Stokes, of Kelowna, B.C., and three grandchildren: Andrea, of West Hartford and Rochelle and Cameron, of Kelowna.
A memorial service will be held Friday, May 29, at 2 p.m. in the downtown Faculty and Staff Lounge on the seventh floor of the Henry F. Hall Building, 1455 de Maisonneuve Blvd. W. All friends and former colleagues are cordially invited to attend.