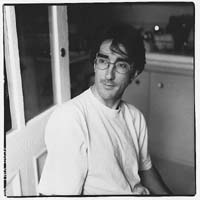 Michael Dobie's dream of traveling through Asia is about to come true. After graduating from Concordia's Journalism Diploma program this June, the 32-year-old spring graduate will pay a brief visit to his native Vancouver. Then he's off to China's Beijing Broadcast Institute (BBI), where he will teach introductory journalism and English courses.

"This is a great opportunity. I'm thrilled," Dobie said of his one-year contract, secured as part of an ongoing agreement of cooperation between Concordia and BBI.

The deal, signed in 1994 and prolonged until 2003, fosters exchanges between the two institutions. Enn Raudsepp, Director of Concordia's Journalism Department, said Dobie is the ideal ambassador to BBI because he is "a bright, promising graduate."

Dobie plans on exploring as much of China as he can and hopes to pick up some Mandarin. "My goal is to learn as much as I can and not worry about perfection," he said.

Speaking another language could prove useful if Dobie realizes his next dream, becoming a foreign correspondent. But that project will have to wait until he completes a tour of India when his BBI contract expires.

Dobie came to Concordia after studying French at Université Laval for a year and graduating in political science from the University of British Columbia. While in Montreal, he has written for the Link, CTR and The Gazette. He also shared the Philip Fisher Scholarship, awarded to the best Journalism graduate student, chosen by The Gazette's two senior editors. .