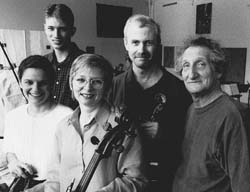 Painter Guido Molinari (right) with the the Quatuor Molinari. Clockwise from top: Jonathan Crow, replacing second violinist Ingrid Matthiessen; David Quinn, viola; Sylvie Lambert (cello) and Olga Ranzenhofer (first violin). The ensemble finished their season with a concert last Friday at the Unitarian church in Westmount.
Guido Molinari retired two years ago from Concordia, but he seems to be busier than ever, and still active at the University.
One of Canada's finest painters, Molinari taught here two evenings a week for 25 years. His teaching career not only nurtured a generation of Canadian artists, it freed him to stay in the city he loves, making art as he wished instead of chasing his fortune in New York.
Last spring he played host at his east-end studio to a highly successful fundraiser for the Faculty of Fine Arts. His studio is also being used for concerts by the "Molinari Quartet."
The artist explained recently that he found that several of his neighbours, all young members of the Montreal Symphony Orchestra, had formed a quartet to play modern chamber music. He offered them his studio as a rehearsal and performance space, and they adopted his name. Voilà, the Quatuor Molinari.
In 1982, Molinari had bought an old bank building on Ste. Catherine St. East for less than the average suburban house. Its three-metre-high windows offer plenty of light, and an ideal workspace for his painting. He lives upstairs in the former bank manager's quarters, with a view of the St. Lawrence River and Longueuil beyond, and he keeps his most valuable paintings in the bank's vault, with its heavy copper door.
A typical Quatuor Molinari event was held on a recent Saturday afternoon at the studio. Called Dialogues à l'atelier, it combined an illustrated lecture on modern music with an exhibition of student and professional art.
About 80 people sat on folded chairs, listening to the quartet play excerpts by Bartok, Shostokovitch and two Montreal composers, Denis Gougeon and Ana Sokolovic, who were themselves on hand to talk about their work. On the walls of the studio hung paintings by promising Concordia students, along with pieces by such established artists as Françoise Sullivan, Yves Lemoyne and Molinari himself.
One member of the audience was so moved by it all that she made an impassioned impromptu speech praising first violinist Olga Ranzenhofer for her lucid explanation of the music. She earned a warm embrace from the violinist, another from Molinari, and a big round of laughter and applause from the audience.
Lately, Molinari has been involved in activities around the 50th anniversary of the Refus global, the incendiary manifesto that threw the first spark into Quebec's Grand Noirceur. He became an artist himself only a decade later, and was profoundly affected by the Automatiste pioneers, particularly the movement's prime mover, Paul-Émile Borduas.
In an interview he gave The Gazette's Janet Bagnall in 1995, Molinari called the lack of attention paid to Borduas' work "sacrilegious," and said that he had been lobbying the Quebec government for five years to classify the artist's St. Hilaire house as a heritage site, and establish a museum for Quebec art on Montreal's Cité du Havre.
Molinari's work was given a full retrospective by Montreal's Musée d'Art Contemporain in the summer of 1995. This summer, there will be another Molinari retrospective in the south of France, at the Musée des Beaux-Arts Grenoble. - BB