! THURSDAY REPORT ON-LINE> <! 28/01/99 Issue> <! Site Designede and DevelopedBy: S. Mehrad B.Eng. For comments and problems contact: technical@mehrad.qc.ca> <! http://www.mehrad.qc.ca>


<! ________________________________________________________________________________>
Jack Lightstone re-appointed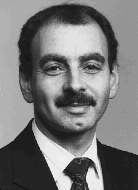 At its January 20 meeting, Concordia's Board of Governors unanimously approved the re-appointment of Jack Lightstone as Provost and Vice-Rector, Research, for a five-year term beginning June 1, 1999, and ending May 31, 2004.

Lightstone, a longtime Professor of Religion at Concordia, has been Chair of his department (1979-85) and graduate program director for the MA in Judaic Studies and PhD in Religion. From 1989 to 1992, he served as Associate Vice-Rector, Academic (Research).

He began his first term as Provost and Vice-Rector in June 1995, and led the academic sector through an extensive, ongoing academic planning process and a difficult period of budget restrictions.

He graduated with a BA from Carleton University in 1972, and went on to complete an MA (1974) and PhD (1977) at Brown University in Rhode Island. He was a Visiting Research Graduate Fellow at Hebrew University in Jerusalem in 1974-75.

An expert on ancient and contemporary North American Judaism, he has written and lectured extensively. He is also deeply committed to Montreal's Jewish community, and has served it actively in many ways over the years.

Lightstone is an associate of the Chair in Quebec and Canadian Jewish Studies and president of the Comité des affaires académiques of the Conférence des recteurs et principaux des universités du Québec (CREPUQ) for the 1997-99 period.

Over the years, he has been involved with many advisory councils and committees, including CREPUQ's Comité de la recherche (1989-92) and Groupe de travail sur la politique d'éthique (1995). He was Concordia's delegate to the Royal Society of Canada's inquiry on research in Canadian universities and to the Smith Commission on teaching in Canadian universities (1991).

<! _______________________________________________________________________________>


Copyright 1998 Concordia's Thursday Report.