! THURSDAY REPORT ON-LINE> <! 28/01/99 Issue> <! Site Designede and DevelopedBy: S. Mehrad B.Eng. For comments and problems contact: technical@mehrad.qc.ca> <! http://www.mehrad.qc.ca>


<! ________________________________________________________________________________>
Buzzing through the snow
The Beezare Stingers (bizarre, bees, get it?) will hit the slopes at the University of Waterloo next week, complete with antennae headbands.
They'll be competing in the Great Northern Concrete Toboggan Race, which tests the knowledge, ingenuity and, as the deadline approaches, the sanity of engineering students.
This year, Concordia has entered an all-woman team, and several members are seen below in the lab. From left to right are Adrienne Choi, Cindy Woo, Shamin Alaei and Anik St. Hilaire. Also on the team are Alejandra Bastidas and Mireille Badaen.
It was a gruelling project, Anik St. Hilaire said, but fun. "We learned that planning is crucial," she admitted. Because of their conflicting class schedules, the entire team never got together in the lab at the same time.
"The hardest part was shaping the frame." No wonder -- it's made of reinforced steel. How did they do it? With a vise, with a torch, and with "brute strength." The concrete "bee" will be covered with coloured fabric.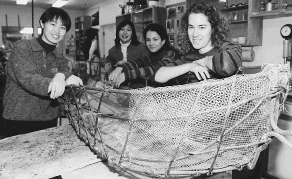 The team, all students in Building, Civil and Environmental Engineering, worked with the help of technician Rocco Lombardo. According to the rules, the concrete toboggans must weigh less than 300 pounds, be aerodynamic, and have a built-in braking system.

The team moved their creation into the lobby of the Henry F. Hall Building last Friday to give other students a glimpse of engineers at work.

<! _______________________________________________________________________________>


Copyright 1998 Concordia's Thursday Report.