! THURSDAY REPORT ON-LINE> <! 28/01/99 Issue> <! Site Designede and DevelopedBy: S. Mehrad B.Eng. For comments and problems contact: technical@mehrad.qc.ca> <! http://www.mehrad.qc.ca>


<! ________________________________________________________________________________>
Alumni Recognition Awards Banquet
he following people, all distin-guished friends and, in most cases, graduates, of Concordia, Sir George Williams or Loyola, were celebrated January 21 at the St. James Club, when the Concordia University Alumni Association's 1999 Alumni Recognition Awards were presented.
Humberto Santos Award of Merit: Peter Howlett
Peter Howlett (Loyola BA 63) is president of Montorsan Holdings and several community organizations, including the Le Portage Program for Drug Dependencies, which he founded in 1970. He has been a member of Concordia's Board of Governors since 1989.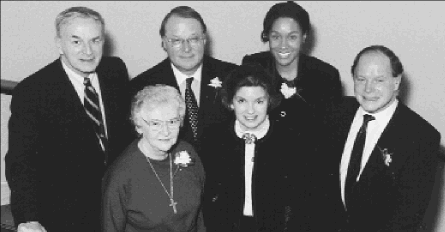 Le Portage began as a modest Montreal street clinic; today it has six substance-abuse rehabilitation centres in Eastern Canada and helps more than 3,000 people each year. Since 1986, Howlett has also been president of Les Amis de la Montagne, dedicated to protecting and conserving Mount Royal. In 1996 the City of Montreal presented him with the Prix d'honneur for his environmental commitment.

Trained as a lawyer, Howlett was an outstanding college athlete at both Loyola and McGill, and played for the Montreal Alouettes after graduation. He has supported Concordia events and projects through the years, and he can often been found in the stands at Stingers games.

The Humberto Santos Award of Merit is presented for lifetime commitment to the Association, the University and the community.

Distinguished Service Award: Barbara Barclay

Barbara Barclay (Sir George Williams BA 74, Concordia BEd 76) is an advisor and part-time faculty member in Concordia's Teaching English as a Second Language department and immediate past-president of the Association of Alumni Sir George Williams.

In 1997, she compiled a retrospective celebrating the 60th anniversary of Sir George's first graduating class. Barbara also organized the Annual Concordia Used Book Fair, which in its first two years has raised more than $8,000 for the Student Emergency Food Voucher Program and the Student Emergency Loan Program.

Perhaps her most lasting contribution was the installation in the lobby of the Henry F. Hall Building of the bronze busts of six men who built Sir George Williams: Frederick O. Stredder, Henry F. Hall, Claude W. Thompson, Kenneth E. Norris, Douglas B. Clarke and John W. O'Brien.

Distinguished Service Award: Raymond Décarie

Raymond Décarie (Loyola BComm 63) is president of the Affinity Market Group for Meloche Monnex insurers, in Toronto.

Meloche Monnex pours thousands of dollars a year into university sponsorships, advertising, prizes and donations, and Mr. Décarie ensures that Concordia is a frequent recipient.

He is a member of the board of the Toronto Chapter of the Concordia University Alumni Association, and he is a canvasser for the Toronto Division of Concordia's Campaign for a New Millennium.

Distinguished Service Award: Roland Picard

Roland Picard (Sir George Williams BSc 46) is president of de Aur Light Company. An active community volunteer, he has been involved in many ways with the Association of Alumni Sir George Williams for more than 50 years. He will receive his award at a later date, as he was not able to attend the ceremony.

Honorary Life Membership: Sister Eileen McIlwaine, CND

Sister Eileen McIlwaine, a member of the Congregation of Notre Dame, was president of Marianopolis College until her retirement in 1996 and has been a member of Concordia's Board of Governors since 1988. She was the Board's vice-chair from 1992 to 1997.

Sister McIlwaine has a PhD in philosophy from the University of Ottawa. A teacher first of high school and then of college students, she was known for her intelligence, conscientiousness, and concern for her students, faculty and staff.

At Concordia, she was a key player in the selection of some of Concordia's top administrators, and was often a voice for women's issues on the Board. During difficult times, her clear-mindedness, knowledge and compassion made her an invaluable asset to the University.

Alumni Award for Excellence in Teaching: Marc Gervais, SJ

Marc Gervais (Loyola BA 50) is a Jesuit, an internationally renowned film scholar and much-admired teacher.

He started teaching cinema in the Communication Studies Department at Loyola College in 1967, and took early retirement from Concordia in 1992, though he continues to teach. Many of his students, including the CBC's Hana Gartner, have gone on to successful careers.

Gervais attends the Cannes Film Festival every year, and is often interviewed for his views on films and directors. His tastes in film are eclectic, ranging from his passion for American westerns and musicals to Pier Paolo Pasolini and Ingmar Bergman.

He was a founder of both the Loyola Jesuit Institute for Studies in International Peace, and of Concordia's Lonergan University College.

Outstanding Student Award: Rosey Edeh

Rosey Edeh, currently pursuing an MA in Art History, is a world-class athlete, sports broadcaster, motivational speaker and mother.

Born in London, England, Edeh came to Canada at age 3. Her running skills led to an athletic scholarship at Rice University in Houston, Texas, where she began to establish herself as a world-class 400-meter hurdler. At the Atlanta Olympic Games in 1996, where she finished in sixth place in the finals, she established a Canadian record in her event. She is now working toward what she hopes will be her fourth Olympics next year in Sydney, Australia, when she will be 34.

Edeh has also sprinted through her course work with top marks, and is readying herself for her thesis, which will focus on the work of Quebec textile artist Louise Lemieux Berubé.

She contributes sports commentaries to CBC Radio, CFCF Pulse, and Panache magazine, and is on the board of the Quebec Special Olympics. She also works occasionally as a model, and once appeared on the cover of the magazine Elle Quebec with her daughter Micha.

In the back row are Fr. Marc Gervais, Raymond Décarie and Rosey Edeh. In the front row, Sr. Eileen McIlwaine, Barbara Barclay and Peter Howlett.

<! _______________________________________________________________________________>


Copyright 1998 Concordia's Thursday Report.