! THURSDAY REPORT ON-LINE> <! 27/05/99 Issue> <! Site Designede and Developed by: S. Mehrad B.Eng. For comments and problems contact: technical@mehrad.qc.ca> <! http://www.mehrad.qc.ca>



<! ________________________________________________________________________________>
Creative arts therapies make real gains in self-esteem
by Julie Joseph
---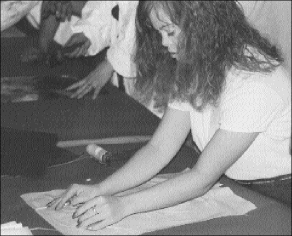 The open house for the Centrefor the Arts in Human Development had its audience jumping, jiving and getting their hands dirty.
When the music started, everybody was on their feet dancing, and the line between participant and spectator quickly blurred. At this series of workshops held at Hingston Hall on April 30, group involvement was a must.
The Centre, founded in 1996, uses movement, art, music and drama to help people with intellectual and developmental disabilities reach their full potential.
It was the first open house the Centre has had. Previously, the end of each year was devoted to putting together art exhibits and two successful original theatre productions, The Winds of Oz (1997, 1998) and Oh, That Aladdin! (1994, 1995).
Professor Stephen Snow, the Centre's director, said, "We really wanted to raise the profile of the Centre so that people can get a better understanding of what the creative arts therapies are about."
The Centre's clients and the graduate students in Concordia's Creative Arts Therapies program demonstrated how they work together, and other participants -- mainly family members and professionals in the network, such as teachers and social workers -- were drawn right in.
In the dance/movement therapy workshop, clients proved that Down's syndrome, autism and other disabilities are no bar to swaying to Louis Armstrong's jazz belting out of a portable stereo system.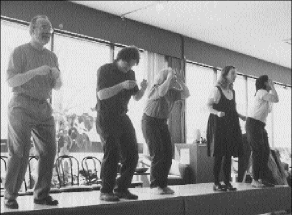 Joanabbey Sack, a dance therapy instructor, said the workshop helps participants learn to work together, a skill they can use in their daily lives. Surprisingly, dance and movement aren't the only things they learn. They also get an anatomy lesson with the help of a pop-up picture book.
"Learning about your body gives you a sense of control," Sack explained. "We all have the same equipment. Everybody in the whole world, no matter what they look like or what their talents, colour, size -- everybody has a heart, a kidney, and a brain."
Down the hall in another room, an art therapy workshop was under way. Here, students showed how they could express themselves with paint, glass and a roller-brush, an art form called touch drawing. The spectators obediently rolled up their sleeves and watched a demonstration by an exuberant young woman with Down's syndrome.
She squirted paint onto a glass board, rolled it around, and placed a piece of paper on it. She pressed lightly on the paper with her fingertips. When she peeled off the paper to show the result, it was an abstract that Picasso might have done. However, this was not art for art's sake, but a therapeutic tool to encourage self-expression.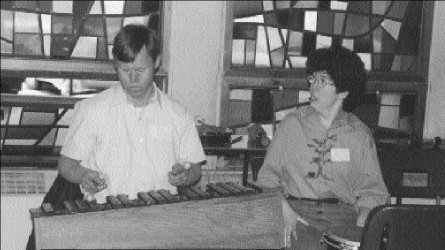 The final workshop of the day was in drama therapy, where the clients showed off improvisational skills. Snow organized them into groups, and asked each group to choose an emotion and act it out using only facial expressions. The members of the audience were asked to guess the emotion.
This kind of improvisational activity might seem like a game, but it builds self-esteem. For Noreen Gabriel, one of the clients in the program, that's what all the creative arts therapies do.
"It makes me feel special," she confided. "It makes me feel that I'm wanted. It makes me feel good. It's not all of that criticism and being bad. I have every right to be proud of myself."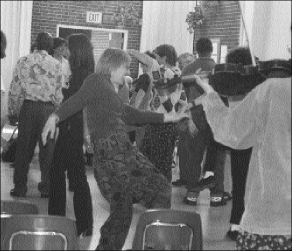 Centre moves into research as well as theatre
When Lenore Vosberg approached Professor Stephen Snow to suggest bringing Concordia students together with clients from the community in a show, she didn't realize that she would have to learn a whole set of new skills herself.

Now Vosberg, a social worker who has worked for many years at what is now called West Island Readaptation Services, is the clinical coordinator and fundraiser for the Centre for the Arts in Human Development. She marvels at how she was thrown into the job.

"I had suggested that we do a theatrical show, and right away, I was the producer. I didn't know the first thing about it!" That first production, in May 1994, drew a big audience. Many of them were parents and siblings of the first-time actors, and they were moved to tears at how self-confident, funny and versatile they were on stage.

This show, and another mounted in spring 1997, took enormous patience, organizational expertise and ingenuity behind the scenes. "We went up and down St. Lawrence Blvd., looking for donations from merchants of shiny material for Aladdin," Vosberg remembered.

The first production raised $14,000 for the Centre-to-be. Launched with help from the Seagram Fund for Academic Innovation in 1996, the Centre has recently been given another major grant by a private foundation.

Now a research component is being added. Education Professor Miranda D'Amico is presenting a paper this month to the Canadian Psychological Association, and in August to its American counterpart, on a survey of schoolchildren's attitudes to the disabled that was conducted at the time of one of the theatre productions.

The findings seem to support the view that the more exposure children have to differently abled people, the more accepting they are. Current research involves measuring the self-esteem of participants through videotape and observation.

Snow and Vosberg would like to draw other groups into the Centre's work, perhaps making disaffected teenagers mentors for the Centre's handicapped clients. They would also like to see the Centre move into a larger, more accommodating space.

- BB

<! _______________________________________________________________________________>




Copyright 1999 Concordia's Thursday Report.