! THURSDAY REPORT ON-LINE> <! 27/05/99 Issue> <! Site Designede and Developed by: S. Mehrad B.Eng. For comments and problems contact: technical@mehrad.qc.ca> <! http://www.mehrad.qc.ca>



<! ________________________________________________________________________________>
Annie Proulx will receive honorary doctorate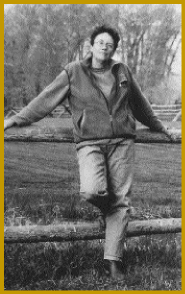 Pulitzer-Prize-winning author and Sir George Williams graduate Annie Proulx will be among the distinguished people to receive an honorary doctorate at this year's spring convocation ceremonies. The recipients include former NDP leader Ed Broadbent, businessmen Peter Munk, Charles-Albert Poissant and Charles Sirois, journalism scholar James W. Carey and Concordia builder Robert Wall.
Proulx, the author of The Shipping News, a much-loved novel set in Newfoundland, was born in 1935 in Norwich, Connecticut, the oldest of five girls. Her father's work in the textile trade kept the family on the move through much of her early life. She attended Colby College in Maine in the 1950s, and when she moved to Vermont in the early 1960s, she enrolled at the University of Vermont and graduated with a Bachelor of Arts in history in 1969.
Proulx came to Montreal to do graduate studies at Sir George Williams University, and earned her Master's degree in history in 1973 under the supervision of Martin Singer, now Dean of Arts and Science.
When she returned to Vermont, she worked as a freelance journalist and wrote several "how-to" books. While she raised three sons, she also managed to set aside some time for fiction writing, much of which found its way into Heart Songs and Other Stories.
Since the late 1980s, her writing career has blossomed. Her 1992 novel, Postcards, won the PEN/Faulkner Award for Fiction, while The Shipping News, published a year later, received the U.S. National Book Award and the Pulitzer Prize for fiction. Accordion Crimes followed in 1996. Her most recent book, Close Range, features stories about Wyoming, which she now calls home.
When a reporter for Publisher's Weekly asked her why she settled in Wyoming, she replied, "There is room to walk. There's something about being able to shoot your eyes very far ahead. In northern New England, the trees got in the way." Perhaps this sums up her writing style as well. She tells sweeping stories; rich in scope and emotion, which she says were bottled up inside her, waiting to get out.
Her short stories have been published in The New Yorker,The Atlantic Monthly, Harper's and GQ. They have also been selected for TheO. Henry Stories and The Best American Stories of the Century, and have won the National Magazine Award for fiction.
She has received the Garden Writers of America Award, a Vermont Council on the Arts Fellowship, a National Endowment for the Arts Grant, a Guggenheim Fellowship, the National Book Award for Fiction, the Irish Times International Fiction Prize, the PEN/Faulkner Award and the Pulitzer Prize for fiction. She was also awarded an honorary doctorate of Humane Letters by the University of Maine in 1994.
CONVOCATION 1999 - HONORARY DOCTORATES
James W. Carey
Arts and Science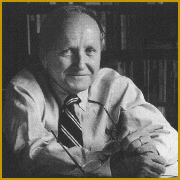 James Carey has been one of the most important contributors to the fields of communications and journalism over the last half of the 20th century. His scholarship is both wide-ranging and extremely influential. He has helped to redefine the proper role of mass media in a democratic society, and is centrally responsible for the development of cultural and historical approaches to the analysis of communications technologies. Carey has held a National Endowment for the Humanities Fellowship in Science, Technology and Human Values. He is one of 20 elected fellows of the International Communication Association. He has served as president of the Association for Education in Journalism and Mass Communication, and on numerous boards, including the Corporation for Public Broadcasting, the Office of Technology Assessment of the U.S. Congress and the Accrediting Council in Journalism and Mass Communication. He also serves on the National Advisory Board for the Peabody Awards in Broadcasting. He is currently the CBS Professor of International Journalism at Columbia University in New York.
Hon. J. Edward Broadbent, O.C.
Arts and Science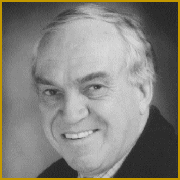 A distinguished politician, scholar and human rights activist, Edward Broadbent has played an influential role in the Canadian political and social sectors. He was born into an auto worker's family in Oshawa, Ontario, and spent his political life fighting for the rights of the working class. He studied philosophy as an undergraduate and obtained a Master's in Political Science from the University of Toronto. In 1968, he was elected to the House of Commons as the New Democratic Party member for Oshawa-Whitby. He was a popular parliamentarian and was elected leader of the NDP just six years after entering the House. When he retired from politics, Prime Minister Brian Mulroney appointed him president of the newly created International Centre for Human Rights and Democratic Development. In this position, Broadbent worked tirelessly to promote and defend human rights and the causes of justice and peace worldwide. The agenda he established for human rights has become even more relevant within the context of global politics today. He is a director of the Canadian Civil Liberties Association and has been active in the Public Policy Forum. He has been described as one of the distinguished public intellectuals of our time.
Robert Wall
Arts and Science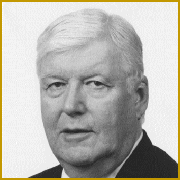 Robert Wall is a distinguished historian, university administrator and author. He arrived at Sir George Williams University during a pivotal time in the institution's history. Plans were under way to bring together Sir George Williams and Loyola College to create a new entity -- Concordia University. He served as chair of the History Department for five years until he was named provost of the new Concordia Faculty of Arts and Science. In this capacity, Dr. Wall played a critical role in the development of Concordia's unique interdisciplinary colleges -- the Liberal Arts College, the Science College, Lonergan University College, the School of Community and Public Affairs and the Simone de Beauvoir Institute. It is a credit to his vision and academic and administrative skills that all five colleges continue to thrive and attract top-quality students. In 1980, Wall left Concordia to accept the challenges offered as provost of the Rutherford Campus of Farleigh Dickinson University in New Jersey, then moved on to Gannon University and finally settled at Fairfield University in Connecticut, where he is now academic vice-president.
Peter Munk, O.C.
Commerce and Administration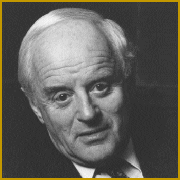 A well-known philanthropist, industrialist and business leader, Peter Munk is chair and Chief Executive Officer of two of Canada's most impressive business empires, Barrick Gold and TrizecHahn. A native of Hungary, he came to Canada at the age of 20 and obtained a degree in electrical engineering from the University of Toronto. His first business venture was a consumer electronics company. He then launched a resort and hotel chain in the South Pacific and Australia, which grew into a multi-million dollar enterprise. In 1983, after returning to Canada, he founded the company now known as Barrick Gold, the most profitable gold company in the world. He later formed TrizecHahn, the second largest public real estate company in North America. He is a member of the World Gold Council and the Toronto Hospital Board of Trustees, Canada's largest health care provider. He was named Canada's Mining Man of the Year in 1993 and in 1997 he was inducted into the Canadian Business Hall of Fame. In 1993 was made an Officer of the Order of Canada.
Charles-Albert Poissant, C.M.
Commerce and Administration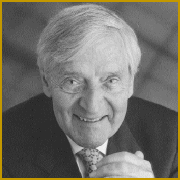 A highly respected businessman, Charles-Albert Poissant is chair of the board of Donohue Inc. and Quebecor. A chartered accountant by training, he spent 40 years with the firm now known as KPMG, rising to the position of president. In 1987, he left the firm to accept the chairmanship of Donohue Inc., an integrated Canadian forest products company. He was no stranger to Quebecor, having been an integral part of the company as far back as the 1950s. In 1997, he took on the added responsibility of heading Quebecor. He has served on the boards of the Fondation de l'UniversitŽ du QuŽbec ˆ MontrŽal, the Fondation de l'H™pital du Sacre Coeur de MontrŽal and l'H™pital du Saint Sacrement de QuŽbec. He is also on the Board of the Canadian Pulp and Paper Association. He is a member of the C.D. Howe Institute, the Canadian Council Bureau, the Canadian Tax Foundation and the Conference Board of Canada. He was a member of the BŽlanger-Campeau Commission on the political and constitutional future of Quebec.
Charles Sirois, C.M.
Engineering and Computer Science
Charles Sirois is chair and Chief Executive Officer of Telesystem Ltd., a leading figure in the Canadian Telecommunications industry. He acquired a Bachelor's degree in finance from l'UniversitŽ de Sherbrooke and a Master's in finance from l'UniversitŽ Laval, and took the helm of one of the family's small businesses, Setelco, which produced pagers. Within a few years, he had established himself as the leader of the Canadian paging industry through National Pagette and National Mobile Radio Communications Inc. In 1987, he merged these companies with Bell Cellular to form BCE Mobile Communications Inc., which he directed as chair and Chief Executive Officer from 1988 to 1990. In 1984, he founded Telesystem Ltd., a private holding company, of which he is the principal shareholder. His other business credentials include chair and CEO of Teleglobe Inc., Chair of Telesystem International Wireless Ltd., Microcell Telecommunications Inc., and the Coscient Group. He serves as an advisor to a number of other companies and from 1994-1999, he chaired a highly successful capital campaign at l'UniversitŽ du QuŽbec ˆ MontrŽal.
Convocation 1999
Place des Arts
Faculty of Commerce and Administration

Thursday, June 10, 10 a.m.

Salle Wilfrid-Pelletier

Peter Munk, Charles-Albert Poissant

Faculty of Arts and Science

Friday, June 11, 9:30 a.m.

Salle Wilfrid Pelletier

Annie Proulx, Dr. James Carey

Friday, June 11, 2:30 p.m.

Hon. J. Edward Broadbent, Dr. Robert Wall

Faculty of Engineering and Computer Science

Tuesday, June 15, 10 a.m.

ThŽ‰tre Maisonneuve

Charles Sirois

Faculty of Fine Arts

Tuesday, June 15, 2 p.m.

ThŽ‰tre Maisonneuve
<! _______________________________________________________________________________>




Copyright 1999 Concordia's Thursday Report.