Phil Matthews combines his studies with Formula 2000 car racing
Engineer is put to the test
by Derek Cassoff
---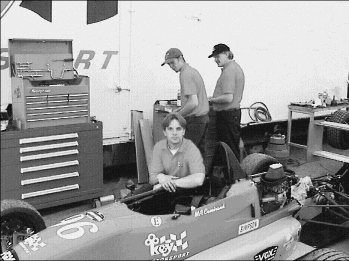 He's still a few credits shy of completing his engineering degree, but when it comes to the mechanics of auto-racing, Phil Matthews already sports an impressive track record.
In a situation that best epitomizes Concordia's attempt to offer students hands-on experience, Matthews is combining his engineering studies with work as team manager and chief engineer for Key Motorsport, an Ontario-based outfit that runs six race cars on the Formula 2000, Formula 1600 and Atlantic racing circuits.
The circuits, which involve races across North America, are considered a training ground for engineers and drivers looking to eventually move up to Indy car and Formula One Grand Prix racing.
When he's not attending classes or cramming for an exam, Matthews heads Key Motorsport's team of five mechanics and is responsible for developing his team's British-built cars to race specifications. Using knowledge gleaned from past experience and his engineering professors, he tinkers with everything from shock absorbers and suspension systems to wings and diffusers, constantly on guard for any slight modification that will give his team's drivers that vital edge.
Most of the work is done at Key Motorsport's race shop in Laval, but Matthews travels with the team during the racing season, overseeing last-minute preparations based on changing weather patterns and course conditions.
"Some days, it's very complicated, and other days it's painfully simple," Matthews, 28, said last week in a telephone interview from Bowmanville, Ont., where the team was preparing for a weekend race.
Key Motorsport has enjoyed enormous success early in the 1999 racing season, capturing first place at the Phoenix International Raceway at the end of March and at the Mosport Grand Prix last weekend. The Formula 2000 car was driven by Marc-Antoine Camirand, a 19-year-old from Trois Rivi¸res who is being tabbed as the next Jacques Villeneuve and leads the series in points.
But a driver is only as successful as the team lurking in the background, according to Wesley Fitch, technical officer with Concordia's Faculty of Engineering and Computer Science and the man who first introduced Matthews to the owner of Key Motorsport.
"You can be the best driver in the world, but it means nothing if you don't have a car that will go the distance and deliver the performance that you need," Fitch said.
Matthews's foray into the world of auto racing was certainly no accident. His father raced motorcycles for a living and Matthews says it was only in his teen years, after his dad's retirement, that he was exposed to a world outside of racing.
The hiatus didn't last long. By 14, Matthews was trying his own luck on the go-kart circuit, and at 18 he left for Europe, spending two mildly successful years on race tracks in the Netherlands and England. The high cost of racing eventually convinced him to consider a career in mechanics.
Matthews admits he was never the studious type, but he decided to enrol at Concordia in 1996 to fulfil his ultimate dream of becoming an engineer for Formula One racing. Engineers at that level require university certification.
"My initial attitude to school was that it was a place where I could get the piece of paper that I needed to get a job," Matthews said. "But then I realized that education is so important to auto racing. You don't realize how much engineering goes into everything."
"There's a lot involved in squeezing the most power out of your vehicle," Fitch agreed. "It's high-tech engineering, and Phil is using what he has learned in courses such as materials and fluid dynamics. It's taking the theoretical and putting it into practice."
In a way, Matthews has become the poster boy for the Faculty of Engineering and Computer Science, which encourages hands-on learning through part-time jobs, internships and participation on collegiate design teams.
While Matthews has walked a fine line balancing his studies with his job, Fitch said faculty members are usually willing to accommodate students involved in extracurricular work, even if it means juggling class schedules and deferring exams.
"The students graduating from Concordia will be better-prepared students if we find the time to allow them to participate in these types of activities," Fitch said. "We want to prepare students that industry needs, not students that we think they need."
At a Glance
Compiled by Barbara Black
This column welcomes the submissions of all Concordia faculty and staff to promote and encourage individual and group activities in teaching and research, and to encourage work-related achievements.
Congratulations to PhD candidate Dan Stanescu, one of a handful of winners of a Pratt & Whitney Canada Technology Partnership Award. Stanescu, whose supervisor is Mechanical Engineering Professor Wagdi Habashi, has been applying fluid dynamic theory to reduce the noise level of Pratt & Whitney's jet engines. The airplane manufacturer made the announcement as part of its third annual inter-university Technology Forum.
Michel Laroche (Marketing) has been appointed to a three-year term as managing editor of the Journal of Business Research. Laroche was associate editor of the journal for six years, responsible for the marketing area, for which he received an award in 1997 that was later named after him. Jean McGuire (Management) has been associate editor responsible for the strategic management and organizational behaviour area.
Chantal Maillˇ (Simone de Beauvoir) has been appointed by the Quebec government to the Conseil du statut de la femme. Her colleague Kaarina Kailo and co-author Elina Helander launched their book No Beginning, No End: The Sami (Lapps) Speak Up at Concordia on April 21. The book is published by the Canadian Circumpolar Institute.
William Curran, Director of Libraries, was a guest speaker at the 67th conference of the Quebec Library Association/Association des bibliothˇcaires du Quˇbec, held in Montreal April 29, 30 and May 1. He spoke about "Information Literacy and the Academic Library in the 21st Century."
Marie Melenca (Applied Linguistics/TESL Centre) took part in one of TESOL 1999's (Teaching of English as a Second or Other Language) panel sessions in New York City in March. The panel discussed "Integrating Pronunciation within Task-Based Curricula." She also co-presented with a scholar from Stanford University a discussion on "Suprasegmentals: From Classroom Experience to Spontaneous Speech."
Frank Chalk (History) gave a talk May 20 at the Montreal Press Club in which he said that broadcasting is used to incite genocide in such troubled countries as Rwanda, Burundi and Yugoslavia, and can be used to stop it. He is co-author with Kurt Jonassohn of The History and Sociology of Genocide, and has lectured on the topic at the International Criminal Tribunal for Former Yugoslavia and Rwanda in the Hague.
Nghi M. Nguyen (Building, Civil & Environmental) was guest speaker at a conference of the Project Management Institute (PMI) in Montreal on "Effective and Practical Risk Management for Project Managers." This was one of two papers he gave last fall in California to a PMI symposium.
Cameron Tilson (Planning, Rector's Cabinet) has had a book review published in the spring 1999 issue of the journal of the Society for College and University Planning (SCUP). Tilson said that Glen A. Jones's Higher Education in Canada: Different Systems, Different Perspectives gives a good historical overview of a little-explored subject. You can read it at http://www.scup.org/br27n3-3.htm
Enn Raudsepp (Journalism) was interviewed about Concordia's Journalism program for the international magazine Education Travel. Raudsepp is on sabbatical this year, studying the aboriginal press across Canada.
David Gobby (Quality Programs) recently received certification by the American Society for Quality (ASQ) as a Certified Quality Manager. The designation is for those who understand quality principles and standards in relation to organization and human resource management. The ASQ also provides certification for the following: Quality Engineer, Quality Auditor, Reliability Engineer, Quality Technician, Mechanical Inspector and Software Quality Engineer.
Judith Patterson (Geology), along with Anthony Perl (University of Calgary), published a paper called "The TGV Effect: A Potential Opportunity for Reconciling Sustainability with Aviation" in World Transport Policy and Practice. Patterson presented an earlier version of this paper at the annual Air Transport Research Group meeting in Dublin, Ireland, last July.
In Brief...
Fichte flourishes
Philosophy Professor Vladimir Zeman reports that the fifth biennial meeting of the North American Fichte Society, held at the Ch‰teau Versailles May 12 to 16, was an enjoyable and productive event for all concerned.
Thirty-four scholars attended, and despite the Society's North American orientation, they included participants from Oxford, Paris, Germany and Amsterdam.
Johann Gottlieb Fichte (1762-1814) was a classical German philosopher. Zeman, a Kant specialist, said that while Fichte was long seen as Kant's influential precursor, interest in his philosophy on its own account has increased. In fact, a key work in the Kantian spirit by the young and unknown Fichte, indicates that even that early in his career, he was an independent thinker of stature.
Fichte's best-known work, Addresses to the German Nation, have been viewed by some as unduly nationalistic, but Zeman said that the context must be considered; these were speeches made at a time when the German people were under the thumb of Napoleon Bonaparte.
Zeman was a coordinator of the conference, along with a colleague from the Universitˇ de Montrˇal.