<> <>
The file selected was created by a newer version of the XPressTags filter. Do you want to import the file anyway?
Annie Proulx will receive honorary doctorate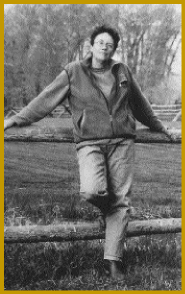 Pulitzer-Prize-winning author and Sir George Williams graduate Annie Proulx will be among the distinguished people to receive an honorary doctorate at this year's spring convocation ceremonies. The recipients include former NDP leader Ed Broadbent, businessmen Peter Munk, Charles-Albert Poissant and Charles Sirois, journalism scholar James W. Carey and Concordia builder Robert Wall. See page 5.
Proulx, the author of The Shipping News, a much-loved novel set in Newfoundland, was born in 1935 in Norwich, Connecticut, the oldest of five girls. Her father's work in the textile trade kept the family on the move through much of her early life. She attended Colby College in Maine in the 1950s, and when she moved to Vermont in the early 1960s, she enrolled at the University of Vermont and graduated with a Bachelor of Arts in history in 1969.
Proulx came to Montreal to do graduate studies at Sir George Williams University, and earned her Master's degree in history in 1973 under the supervision of Martin Singer, now Dean of Arts and Science.
When she returned to Vermont, she worked as a freelance journalist and wrote several "how-to" books. While she raised three sons, she also managed to set aside some time for fiction writing, much of which found its way into Heart Songs and Other Stories.
Since the late 1980s, her writing career has blossomed. Her 1992 novel, Postcards, won the PEN/Faulkner Award for Fiction, while The Shipping News, published a year later, received the U.S. National Book Award and the Pulitzer Prize for fiction. Accordion Crimes followed in 1996. Her most recent book, Close Range, features stories about Wyoming, which she now calls home.
When a reporter for Publisher's Weekly asked her why she settled in Wyoming, she replied, "There is room to walk. There's something about being able to shoot your eyes very far ahead. In northern New England, the trees got in the way." Perhaps this sums up her writing style as well. She tells sweeping stories; rich in scope and emotion, which she says were bottled up inside her, waiting to get out.
Her short stories have been published in The New Yorker,The Atlantic Monthly, Harper's and GQ. They have also been selected for TheO. Henry Stories and The Best American Stories of the Century, and have won the National Magazine Award for fiction.
She has received the Garden Writers of America Award, a Vermont Council on the Arts Fellowship, a National Endowment for the Arts Grant, a Guggenheim Fellowship, the National Book Award for Fiction, the Irish Times International Fiction Prize, the PEN/Faulkner Award and the Pulitzer Prize for fiction. She was also awarded an honorary doctorate of Humane Letters by the University of Maine in 1994.
Cuban equipment to fuel coma research
by Tim Hornyak
---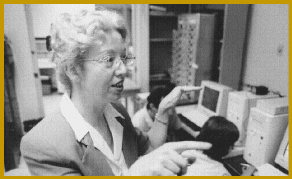 Cuba may be better known for its cigars than its medical technology, but the communist state may provide some high-tech equipment for a local research project on patients recovering from coma.
Following a recent trip to Cuba by a delegation of Concordia faculty led by Rector Frederick Lowy, Department of Psychology Professor Jacinthe Baribeau said the medical technology at the Cuban Neuroscience Center is impressive.
Baribeau, the lead investigator of a new three-year clinical study measuring brain waves in comatose and recovering coma patients, was faced with a 10-per-cent shortfall in a $200,000 grant awarded to her team last year by Canada's Medical Research Council. Cuban neuroscientists approached her with grant interest, so she decided to shop around for an averaging and signal-to-noise extraction machine in Cuba.
"They have the engineering, and they have the neuroscience expertise to build these machines," said Baribeau, who is Director of Concordia's Laboratory of Human Neurophysiology and Neuropsychology. "Our grant allows us to buy separate units for the research, but not the one smaller, more compact system with the U.S. dollars required.
"Cuba can afford to make these machines more cheaply, probably because of labour costs, and because they have expertise that has been a priority in their country for many years."
Pending a successful import of the machine and delays for certification by the Canadian Standards Association, Baribeau and her team of researchers would add the Cuban equipment to her set-up to analyze the brain's averaged "evoked potentials" (EPs) in about 50 coma patients at Charles Lemoyne Hospital on the South Shore.
In addition to transmitting information via genetic and biochemical means, the brain's neurons also communicate through electricity, and brain waves describe the flow of electric current between different parts of the brain. EPs are measurements of brain-wave amplitude, frequency and timing.
Specific areas of the brain emit characteristic signals according to specific tasks, such as recognizing one's name. Hooking patients up to a series of electrodes similar to those used in an electroencephalogram (EEG) enables scientists such as Baribeau to measure the response of brain cells to various stimuli.
"Lots of cells are acting at the same time, and we have to find the best way to figure out which cells are important and at what time they're most relevant," Baribeau said. "We want to ignore the cells that aren't relevant to the exact process we're studying. This is why evoked potential averaging methods are so crucial."
Still a poorly understood phenomenon, coma may result from cardiovascular events such as stroke, but it is more often associated with car accidents and other trauma to the frontotemporal and sub-cortical area of the brain. Comas often last for months, and outcomes range from recovery with a combination of physical, psychological and intellectual impairments to death.
Baribeau's past research, however, has demonstrated that a proactive approach to mental stimulation during rehabilitation improves a patient's chances for long-term recovery compared to traditional physical and occupational therapy.
"Coma is that great natural defence mechanism that helps the body heal itself," Baribeau said. "It puts all the extra functions that aren't necessary to sleep, and focuses on healing itself, so there is 'spontaneous recovery' during coma. Now we want to see how we can track that recovery, and at what level patients can receive information from the outside world."
Baribeau hopes that using EPs to monitor brain-cell response to stimuli as patients are in and emerging from coma will yield new treatment protocols in the future.
"Do coma patients experience things?" asks Baribeau. "Do they hear their names when we call them? Is there information processing going on in deep coma? There's little knowledge of it currently. If we know we can reach them, we will try even more to reach them during their coma, and give them support."
Baribeau said that securing the Cuban equipment for her research will be an imaginative, cost-effective way to deal with cutbacks in government funding, departmental facilities and hospital staff that many scientists face now. On top of fundraising, grant management, teaching, training assistants and conducting research, Baribeau must tackle technical hurdles such as finding and training technicians to program the lab's sophisticated brain-wave equipment.
"Every researcher in the Department of Psychology, especially those in the Drummond Science Building doing human research, has to work with time constraints for grants, incomplete funds and no clerical or engineering help," Baribeau said. "We're all -- the Dean, myself, the Director of International Academic Co-operation -- trying to find opportunities to solve problems in a creative manner."