Mechanical Engineering Design Awards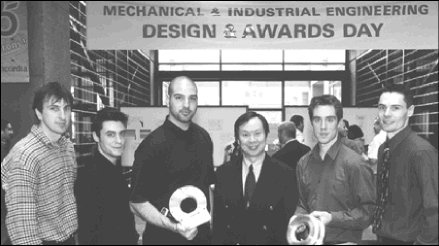 The Mechanical Engineering Department held a Design Awards Day on April 7. Above, winners of the Design Composite Award, given by the Concordia Centre for Composites, pose with V.S. Hoa, Chair of the department. From left to right are Csaba Benko, Robert Longo, Johnny Boghossian, Dr. Hoa, Blair McEwan and Mike Marz. Their project was called Concurrent Resin Application for 2D Triaxial Braiding Machine. Other awards presented included the Silas Katz Memorial Awards, which went to Wei-Yi Liu and Nick Reonegro, and the R.M.H. Cheng Award, given to Eric Cantin, Robert Taddeo, Anthony Santos, Oliver Bournique and Nicholas De Jesus for their Rotating Resin Applicator.
Cancer warrior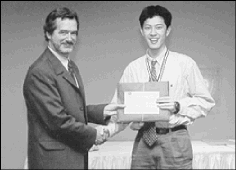 The Bell Montreal Regional Science Fair brought together some of the province's brightest young students. Michael Zhen-Yu Tong, a student at Marianopolis College, was the winner of the Bridging the Millennia Award, the largest of several given by Concordia's Faculty of Engineering and Computer Science. In the photo, he receives his award from Professor Terrill Fancott.
Tong's biochemistry project was called "The Cancer Killer." It earned him a travel grant to spend a week at the Intel International Science and Engineering Fair (ISEF) in Detroit next month.
The Faculty's four departments gave $100 awards to outstanding projects by the following high school students: Julie Okapuu and Robyn Buckland Dalton for a project on the efficiency of a motor (Electrical and Computer Engineering); Vincenzo K. Marcovecchio and Fabio Ianiro for a project on cryptography (Computer Science); Athanasios Kalimidis and Vassilios Klouvatos for a project on aerodynamics (Mechanical and Industrial Engineering); and Michael Woloszyk and Nuno Tang for a project on thermal insulation (Building, Civil and Environmental Engineering).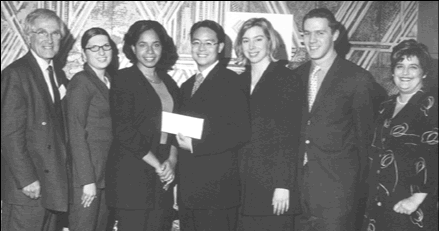 Managing to win bronze
Above, the happy team of Concordia Management students who won the $2,000 third prize in a recent competition sponsored by the Quebec Chamber of Commerce and the Ordre des comptables en management accrédités (CMA) du Québec. The team studied the development of new markets for Labplas, a manufacturer specializing in sterile packaging. At the left is UQAM business dean Jean Ducharme, who presented the cheque, and at the extreme right, Danielle Lafond, president of Labplas. Between them are students VŽronika Vlachova, Delphine Tardeu-ChŽron, Bao Nguyen, Nancy Greig and Marcos Tarnowski. Fifteen schools competed in the preliminary round, and three in the finals. First prize went to the team from HEC, and second prize to the UniversitŽ du QuŽbec ˆ Trois-Rivires.
Jeffrey Moore wins a Commonwealth Prize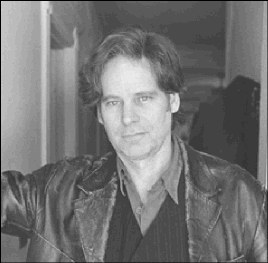 Hearty congratulations to Jeffrey Moore, who teaches translation in ƒtudes franaises. He has won the Commonwealth Best First Book Award for Prisoner in a Red-Rose Chain.
The award, given for an English-language book written virtually anywhere in the world except the United States, was announced at a gala ceremony in New Delhi.
As one of three regional finalists flown to India for the occasion, Moore was on hand for the announcement and the award, which carries a cash prize of £3,000, on top of the £1,000 he was awarded as a finalist. That works out to nearly $10,000 Canadian.
As we reported in CTR's March 2 issue, Prisoner in a Red-Rose Chain, published by Saskatoon's Thistledown Press, is the tale of an obsession. The jury praised the book for the way it captured the quirkiness and anxiety of contemporary urban life.
Printmakers win prizes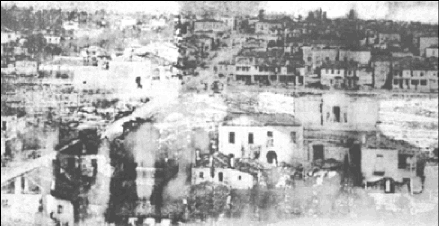 Above, My View from Here, an ink-jet print by prize-winning Printmaking student Kiki Athanassiadis, one of three "Best in Show" winners at a recent competition and show in the Visual Arts Gallery curated by Sylvie Alix, from the Bibliothque nationale du QuŽbec. Here are the award winners in full:
* The Heinz Jordan Award for returning Print Media students at the 300 level went to Katsumi Kimot, Graham Thompson and Clark Hodgson.
* The Best in Show Award went to Rebekah Tolley, Kiki Athanassiadis and George Rebboh.
* The John Topelko Award for contribution to the Print Media program went to Lauren Nurse, Roger Riendeau and Karen Ralickas.
Loto-Quebec holds a printmaking competition of its own, and two Concordia students placed second and third in the student division of this year's edition. They are Andrea Mueller and Rossitza Ribarova. The winners' works are integrated into Loto-Québec's print collection, which now stands at 2,000 pieces by about 575 artists.
Trip to Guelph a success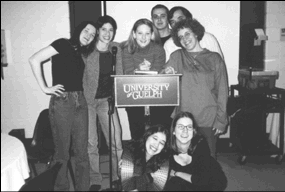 Nine students from Concordia's Sociology and Anthropology Department travelled to the University of Guelph recently for a weekend conference. The students, seen above -- Gabrielle Czaika, Ainsley Chapman, Amanda McIntyre, Deborah Ratti, Donovan Rocher, Tammy Saxton, Rodrigo Molina, Sylvia de Souza and Elza Goncalves -- were accompanied by Professor Anouk BŽlanger. Papers were presented on a wide range of issues, including social discrimination, hyper-reality and justice in a "globalizing" world. It was such a success that the Concordia students plan to hold an inter-university conference of their own.
ECS staff get a vote of thanks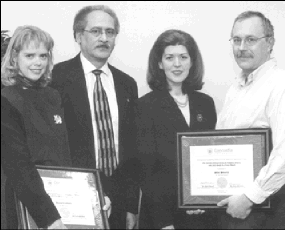 The Faculty of Engineering and Computer Science has introduced Staff Excellence Awards, and made the first presentations on April 19.
The winner of the office support category was Jayne Claassen (at left), who works in the Department of Mechanical Engineering, and the winner in the technical support category was Stan Swiercz (at right), from the Department of Computer Science. With them in the photo are Dean Nabil Esmail and his executive assistant, Clara Paradisis.
The awards, comprising $500 and a plaque, recognize outstanding contributions to the learning and working environment of the Faculty through such qualities as productivity, congeniality, willingness to assist others, and length of service.
Slip, slidin' away . . .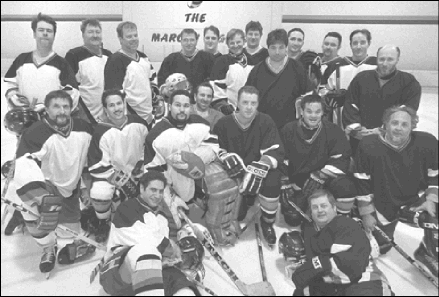 The season came to an end for a group of staff, alumni and retirees who have been hitting the ice at Loyola every Friday afternoon after a long week in the Concordia trenches. The season was marked by determination and competitiveness on the ice, matched by camaraderie and good spirit after the games. As a final gesture, the guys collected $500 for the Alex Lawrie Memorial Fund. Special thanks to Athletics and Vice-Rector Services for their support.

Visiting lecturers

Applications to sponsor visiting lecturers now available for the 2000-2001 academic year.

Application forms and guidelines may be obtained from the chair, director, principal or head of an academic unit or from the Office of the Provost and Vice-Rector, Research.

Eight copies (original application and seven copies) must be submitted to the Office of the latter at the SGW Campus, Bishop Court, Room 223, by May 12.

Late applications cannot be accepted. The next round will take place in May 2001.

Spring Convocation

Faculty of Fine Arts

Tuesday, June 6, 2 p.m.

Oscar Peterson Concert Hall

Faculty of Commerce and Administration

Wednesday, June 7, 7 p.m.

Molson Centre

Faculty of Arts and Science

Tuesday, June 13, 10 a.m. and 2:30 p.m.

Molson Centre

Faculty of Engineering and Computer Science

Tuesday, June 13, 7 p.m.

Molson Centre

<! _______________________________________________________________________________>

---

Copyright 2000 Concordia's Thursday Report.



---