! CONCORDIA'S THURSDAY REPORT ON-LINE> <! September 23rd, 99 Issue> <! Site Designede and Developed by: S. Mehrad B.Eng. For comments and problems contact: technical@mehrad.qc.ca> <! http://www.mehrad.qc.ca>



<! ________________________________________________________________________________>
New Executive Director of Recruitment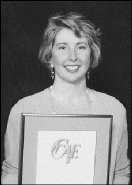 On October 1, Ann Vroom will leave her post as Director of Alumni Affairs to take up the newly created position of Executive Director of Recruitment.
The three-year appointment is in keeping with the recommendations of the Enrolment Management Project. It called for better co-ordination of recruitment activities across the university.
Vroom will be responsible for developing and implementing an institutional recruitment strategy and establishing and managing the Recruitment Office. Initially, she will report to the Rector's Office.
The Office of the Registrar will continue to co-ordinate day-to-day recruitment activities while Vroom prepares a recruitment strategy and establishes the new office.
Once in place, the office will be fully responsible for student recruitment at Concordia, implementing a strategic plan consistent with the academic planning process, and establishing goals that incorporate the enrolment objectives of each Faculty.
Vroom has been Director of Alumni Affairs at Concordia since 1989, steadily building Concordia's ties with its 105,000 alumni. She was a major contributor to the success of the Capital Campaign, and has been an active executive
member of both the Council for Advancement and Support of Education (CASE) and the Canadian Council for the Advancement of Education (CCAE).
A graduate of McGill University, she has worked in public relations, magazine publishing and small business management.
Gabrielle Korn named Acting Director of Alumni Affairs
Gabrielle Korn, Assistant Director of Alumni Affairs, has been named Acting Director following the appointment of Ann Vroom to a new post.
A graduate of Concordia's Journalism program, Gabrielle has worked for Alumni Affairs and University Advancement since 1987. She has been Assistant Director since 1992.
She developed the Alumni Recognition Awards program, alumni education seminars, and the student-mentor program, and initiated several publications and online and marketing projects.
She has also been active in CASE and the CCAE, winning several awards from both organizations. <! _______________________________________________________________________________>



Copyright 1999 Concordia's Thursday Report.